The Underserved Mortgage Markets Coalition (UMMC) consists of 29 leading U.S. affordable housing organizations seeking to hold Fannie Mae and Freddie Mac (the Enterprises) accountable to their founding purpose: to bring housing finance opportunities to American families not traditionally served by the private market. 
Reaching Underserved Mortgage Markets 
Duty to Serve 
Duty to Serve is a federal regulation that requires the Enterprises to serve three historically neglected markets: manufactured housing, affordable housing preservation, and rural housing. 
Every three years, Fannie Mae and Freddie Mac must develop a three-year plan with targeted objectives relating to outreach, loan product offerings, loan purchases, and investments. 
The UMMC harnesses the expertise and influence of housing finance stakeholders to help make Duty to Serve an effective regulation. 
Equitable Housing Finance 
In 2021, the Federal Housing Finance Agency required Fannie Mae and Freddie Mac to develop Equitable Housing Finance (EHF) Plans to reduce racial or ethnic disparities in home ownership and spur investment in formerly redlined areas. The Enterprises' first EHF plans for 2022–2024 were released in June 2022.  
The FHFA issued no regulation for EHF and only limited guidance for the Enterprises, without detailed criteria to structure their initial plans. The UMMC is evaluating the performance of Fannie Mae and Freddie Mac's EHF plans and encouraging FHFA to adopt an EHF rule analogous to Duty to Serve. 
Evaluating the Enterprises' Role and Commitment to Racial Equity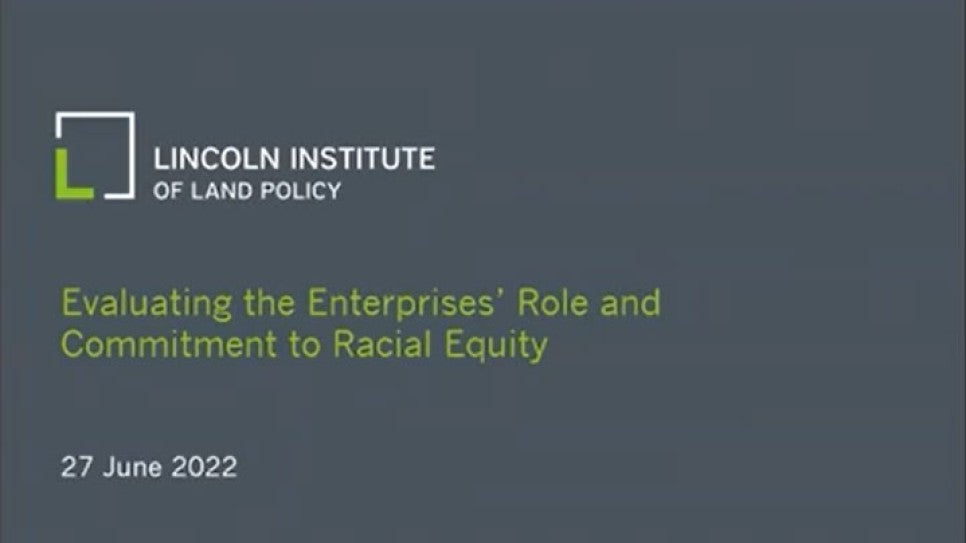 Last summer the Federal Housing Finance Agency announced that it would require the government-sponsored enterprises Fannie Mae and Freddie Mac to develop three-year plans for advancing equity in housing finance. This webinar explores the effects of housing discrimination in the past and present, what the new plans could mean for equity in housing finance, and how the government can promote equity in housing more broadly. Speakers include Marietta Rodriguez, president and CEO of NeighborWorks America; Chrystal Kornegay, executive director of MassHousing; and George W. McCarthy, president and CEO of the Lincoln Institute of Land Policy.
UMMC Impact
The UMMC focuses on three areas of action: tracking the Enterprises' DTS and EHF efforts, advocating for meaningful plans and policies, and working constructively with the Enterprises and FHFA to service underserved markets. 
Tracking Enterprise Efforts  
UMMC has developed a tracking tool to closely monitor the performance of Fannie Mae and Freddie Mac under Duty to Serve. The tool measures the baseline performance for each objective, the proposed goals for 2022–2024, and the extent of the Enterprises progress toward their goals. It also incorporates UMMC members' recommendations for further  improvement. A tracking tool for Equitable Housing Finance is in development. 
Advocating for Meaningful Plans 
UMMC members collaborate to address the weaknesses of the Enterprises' progress and advocate for meaningful improvements. UMMC advocates by contributing to public listening sessions, writing comment letters, engaging with the media, and hosting webinars to express its recommendations.  
In September 2022, the UMMC published a scorecard to assess the Enterprises' Duty to Serve plans for 2022 to 2024, which were released in April 2022. The scorecard recognizes the plans' significant improvements, compared with earlier versions, as well as their shortcomings.  
Working with the Enterprises and FHFA
UMMC works constructively with the Enterprises and FHFA. The coalition's members meet regularly with officials to discuss its recommendations. These conversations help UMMC understand the barriers that the Enterprises face in implementing DTS and EHF. 
Our Members 
The UMMC Includes the following organizations:
Center for Community Progress, cdcb, Enterprise Community Partners, Fahe, Grounded Solutions Network, Homeownership Alliance, Housing Assistance Council, Housing Partnership Network, Institute for Market Transformation, Leading Age, Lincoln Institute of Land Policy, Local Initiatives Support Corporation, National Consumer Law Center, National Council of State Housing Agencies, National Community Stabilization Trust, National Housing Conference, National Housing Trust, NeighborWorks America, Next Step, Novogradac, Opportunity Finance Network, Prosperity Now, RMI, ROC USA, Stewards of Affordable Housing for the Future, The American Council for an Energy-Efficient Economy (ACEEE), Unidos US, and Urban Strategies.

If you are an interested national organization committed to furthering affordable housing finance opportunities, contact Daniel Janzow to learn more about becoming a UMMC Member.