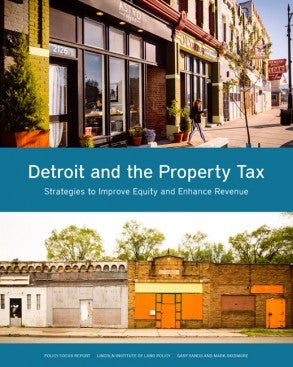 Detroit and the Property Tax
Strategies to Improve Equity and Enhance Revenue
In December 2014, the City of Detroit emerged from bankruptcy with a plan that cut $7 billion from the city's $18 billion debt load. Although the causes of the bankruptcy were complex, a contributing factor was the ongoing decline in the revenue-generating capacity of the property tax. To the extent that most government entities rely heavily on property tax revenues, the story of Detroit's bankruptcy is relevant to other cities as well.
Detroit's projected property tax revenue for 2016 is just $90 million, compared to $240 million in 1995. Even so, property tax rates in Detroit are the highest rates in Michigan and among the highest in the country—suggesting that the system is broken. Problems include unfairly distributed tax burdens, inflated assessments, high rates of tax delinquency, and thousands of foreclosures that reduce the tax base and depress property values. The erosion of Detroit's property tax base is a symptom of changing social, economic, and cultural forces—challenges that have accumulated over more than six decades. This report suggests that property tax reform is not only necessary but can help recovery efforts.
The authors propose reforms in the context of the rapidly changing situation in Detroit in mid-2015. At the local level, they recommend improving assessments, refining the use of abatements, lowering tax rates, implementing a land-based tax, improving public services, and permanently removing excess land from the market. At the state level, they recommend eliminating the taxable-value cap, allowing the adoption of a land value tax by local municipalities, and regionalizing some public service functions.
Tags:
Appraisal
,
Assessment
,
Economic Development
,
Economics
,
Housing
,
Inequality
,
Land Use
,
Land Value
,
Land Value Taxation
,
Land-Based Tax
,
Municipal Fiscal Health
,
Property Taxation
,
Public Finance
,
Public Policy
,
Reuse of Urban Land
,
Tax Reform
,
Taxation
,
Urban
,
Urban Development
,
Urban Revitalization
,
Valuation