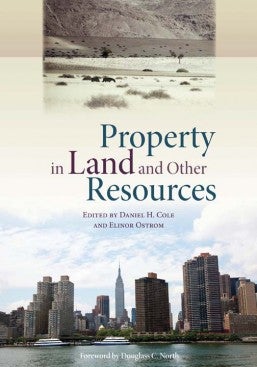 Property in Land and Other Resources
Edited by Daniel H. Cole and Elinor Ostrom, with a foreword by Douglass C. North
Lincoln Institute of Land Policy
This book by Daniel Cole and Elinor Ostrom, winner of the 2009 Nobel Prize in Economics, shows how property rights systems affect the use of scarce natural resources. It is a rich source of information for those involved in conservation, land dispute resolution, land market regulation, public policy, and zoning.
About the Authors
Daniel H. Cole is professor at the Maurer School of Law at the School of Public and Environmental Affairs at Indiana University, Bloomington.
Elinor Ostrom was the first woman to be awarded the Nobel Prize for Economic Sciences. 
Reviews
"This important volume brings together cutting-edge work by top scholars and age-old and emergent problems in the management of scarce natural resources. The authors address current high-stakes dilemmas like climate change and endangered species, as well as longstanding and evolving property rights systems for managing land, air, water, and other resources. In addition to the wealth of insights contained in the individual contributions, there is a tremendous synergy among the pieces, reflecting and extending the rich exchange of ideas in the conference that gave rise to this collection." 
— Lee Fennell, Max Pam Professor of Law, University of Chicago Law School 
"Property in Land and Other Resources will soon become the definitive work on the question of why and how property rights emerge. Leading authorities weigh in on whether private property was a bottom-up experience to conserve overexploited resources, to facilitate resource use, or to protect psychological entitlements. Or, as some argue, property may be a top-down decision, whether either sovereigns or local governments acted to allocate resources more efficiently, particularly when resources were noncommodity goods such as air, endangered species, or climate. Others believe no simple theory can explain the dynamic political nature of ongoing property contests. This book will serve as the starting point for all future debates about the origins of property." 
— Jan G. Laitos, John. A Carver, Jr., Professor of Law, University of Denver Sturm College of Law