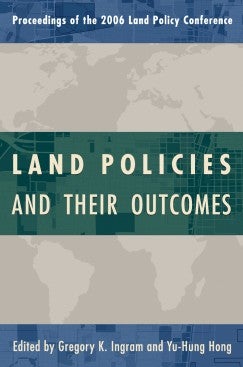 Land Policies and Their Outcomes
Lincoln Institute of Land Policy
This book presents the main contributions to a Lincoln Institute conference, "Land Policies for Urban Development," held in Cambridge, Massachusetts, in June 2006. The conference was designed to review the current research on the impacts of land policy on housing prices and affordability, real estate investment decisions, local public finance, and urban development patterns.
The scholarly work on these issues is normally published in academic journals or presented at conferences whose audiences represent a particular discipline. One goal of this Institute conference was to promote cross-disciplinary dialogue on land policy issues among urban economists, public finance experts, urban and regional planners, and policy makers. Another goal of the conference was to draw on the global experience with these issues from both industrialized and developing countries.
Bringing together a group of scholars and practitioners with varied backgrounds and from different continents to examine the effects of land policy on communities proved fruitful. At the core of much of the discussion was a debate on the extent of the roles that the market, the government, and the community should have in shaping the livelihood of urban residents and metropolitan landscapes.
The objective of the "Land Policies for Urban Development" conference and the publication was not to solve a particular set of problems, but to stimulate further exchanges among scholars and to disseminate information to policy makers and practitioners about the implications of public and private actions for urban development. The chapters in this volume, edited by Gregory K. Ingram and Yu-Hung Hong, provide a wide-ranging treatment of land policy issues and are accompanied by commentaries that shed new light on the debates.
About the Editors
Gregory K. Ingram was president and CEO of the Lincoln Institute of Land Policy from 2005 to 2014.
Yu-Hung Hong was a fellow at the Lincoln Institute of Land Policy.
Table of Contents
Introduction
1. Issues and Themes, Gregory K. Ingram and Yu-Hung Hong
Public Actions and Property Prices
2. Restricting Residential Construction, Edward L. Glaeser
3. Regulation and Property Values in the United States: The High Cost of Monopoly, John M. Quigley
Commentary: Katherine A. Kiel
4. The Efficiency and Equity of Tiebout in the United States: Taxes, Services, and Property Values, Thomas J. Nechyba
Commentary: Daphne A. Kenyon
5. The Economics of Conservation Easements, Andrew J. Plantinga
Commentary: V. Kerry Smith
The Importance of Land Value in Today's Economy
6. The Value of Land in the United States: 1975–2005, Karl E. Case
Commentary: Stephen Malpezzi
7. Urban Land Rents in the United States, David Barker
Commentary: Robin A. Dubin
Land and Property Taxation
8. Land Value Taxation as a Method of Financing Municipal Expenditures in U.S. Cities, Richard W. England
Commentary: Robert M. Schwab
9. Taxing Land and Property in Emerging Economies: Raising Revenue . . . and More?, Richard M. Bird and Enid Slack
Commentary: Miguel Urrutia
Urban Development and Revitalization
10. Asia's Urban Century: Emerging Trends, Rakesh Mohan
11. The U.K.'s Experience in Revitalizing Inner Cities, Peter Hall
Commentary: Jody Tableporter
12. Hopeful Signs: U.S. Urban Revitalization in the Twenty-First Century, Eugénie L. Birch
Commentary: William C. Apgar
New Developments in Land and Housing Markets
13. Community Land Trusts and Housing Affordability, Steven C. Bourassa
Commentary: Stephen C. Sheppard
14. Multiple Home Ownership and the Income Elasticity of Housing Demand, Eric Belsky, Zhu Xiao Di, and Dan McCue
Commentary: Michael Carliner
15. Brazil's Urban Land and Housing Markets: How Well Are They Working?, David E. Dowall
Commentary: J. Vernon Henderson