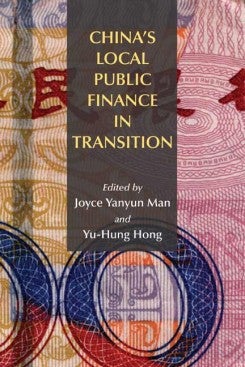 China's Local Public Finance in Transition
Lincoln Institute of Land Policy
China's economy has developed rapidly since the economic reforms in 1978, but public finance reforms have proceeded more slowly. This book looks at three major policy options addressing the underlying imbalance between revenues and expenditures at the local level in China. This is a valuable resource for anyone interested in local fiscal issues in China.
About the Editors
Joyce Yanyun Man was founding director of the Peking University–Lincoln Institute Center for Urban Development and Land Policy in Beijing from 2007 to 2013.
Yu-Hung Hong was a fellow at the Lincoln Institute of Land Policy.
Table of Contents
Foreword, Gregory K. Ingram
Introduction
1. Local Public Finance in China: An Overview, Joyce Yanyun Man
Local Expenditures
2. Assessing the Assignment of Expenditure Responsibilities, Jorge Martinez-Vazquez and Baoyun Qiao
3. Fiscal Decentralization, Infrastructure Financing, and Regional Disparity, Weiping Wu
4. Financing Local Public Infrastructure: Guangdong Province, John L. Mikesell, Jun Ma, Alfred Tat-Kei Ho, and Meili Niu
Local Revenue Sources
5. Provincial Tax Revenue, Donald J. S. Brean
6. Tax Structure and Economic Growth, Joyce Yanyun Man and Xinye Zheng
7. Fiscal Reform and Land Public Finance: Zouping County in National Context, Susan H. Whiting
8. The Path to Property Taxation, John E. Anderson
9. Integrating the Proposed Property Tax with the Public Leasehold System, Yu-Hung Hong and Diana Brubaker
Intergovernmental Transfers
10. The Determinants of Intergovernmental Transfer, Li Zhang and Xinye Zheng
11. Central Government Transfers: For Equity or for Growth?, Shuanglin Lin
12. Fiscal Reform and Rural Public Finance, Richard Bird, Loren Brandt, Scott Rozelle, and Linxiu Zhang
Future Reform
13. Intergovernmental Fiscal Relations and Local Public Finance: What Is Next on the Reform Agenda?, Roy W. Bahl
Reviews
"For nearly two decades China has struggled with fiscal reforms that saddled local governments with huge expenditures, but provided a revenue base wholly inadequate for meeting those responsibilities. In this important book, experts from China, the United States, and Canada review  the history of these fiscal reforms and their impact on China's economy and society. They also suggest further reform that could remove the most serious distortions of China's system. This is a valuable reference work for anyone interested in local fiscal issues in China, and in how its local governments function."
— Dwight H. Perkins, Professor of Economics, Harvard University
"China provides one of the most fascinating—and perhaps the most significant—laboratories of fiscal federalism in the world today. How crucial fiscal institutions evolve in China will have implications around the globe. Students, scholars, and public officials will benefit immensely from this timely, comprehensive, and highly readable collection of original essays covering expenditure and revenue assignments, vertical fiscal balance and intergovernmental transfers, property taxes and fees, local fiscal policies for economic growth, and political accountability for public services."
— Ronald C. Fisher, Professor, Department of Economics, Michigan State University; Visiting Professor, Zhongnan University of Economics and Law