Lincoln Institute Dialogue Explores Land Value Capture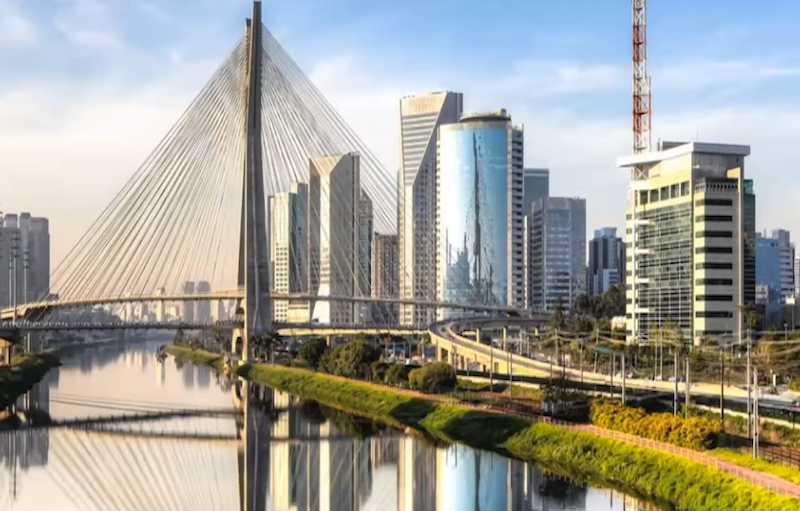 Local governments around the world, no matter their size or capacity, have access to an effective land-based financing tool that can help create more climate-resilient, equitable, and sustainable cities and regions. That tool is land value capture, a policy approach that enables communities to recover and reinvest land value increases that result from public investment and other government actions. Land value capture is rooted in the notion that public action should generate public benefit—and while it is technically feasible to implement almost anywhere, it is often underutilized, says Enrique Silva, director of international initiatives at the Lincoln Institute, who deems it an "untapped source" of revenue. 
In late October, Silva hosted a Lincoln Institute dialogue with guests Barbara Scholz of the German Agency for International Cooperation (GIZ) and Rudiger Ahrend of the Organisation for Economic Cooperation and Development (OECD). The Lincoln Institute and the OECD, with contributions from GIZ, are creating a compendium to showcase the successful implementation of land value capture in 61 countries. The compendium, which will be published in 2022, will offer the first global overview of a policy approach that can fund critical infrastructure ranging from public transit to affordable housing.  
With an estimated $4 trillion needed each year to improve and expand global infrastructure, Scholz said, value capture "offers a huge repertoire of instruments" that can be customized based on local needs. It can improve the financial performance of subnational governments, facilitate access to affordable and secure land and housing, protect ecosystems, and foster equitable and climate-friendly urban development. Value capture can be especially helpful in developing countries and regions, said Scholz, noting that it has successfully been used in countries including Bangladesh, Namibia, and Ethiopia. GIZ works to promote and achieve sustainable development around the world, partnering with businesses, governments, and research organizations in more than 120 countries. 
The speakers noted challenges related to value capture, including a lack of shared vocabulary that can hamper conversations among policy leaders in different areas who are working toward the same goals. Developing a shared vocabulary "is one of the big opportunities of the compendium," Ahrend said. "It will enable dialogues" that aren't currently possible, he added. Noting that cities will absorb 2.5 billion more people by 2050, Scholz confirmed that GIZ hopes to use the compendium to foster dialogue about urban policies, value capture instruments, and country-specific challenges and opportunities, especially in places that are experiencing rapid growth and are vulnerable to the impacts of climate change. 
"These are tools that can be applied and built in contexts where governance institutions might not be as robust as in other countries," Silva said. "The new compendium will help us open up opportunities to consider the extent to which land value capture can not only finance urban development, but also finance climate action and climate adaptation work. This conversation is ramping up." 
The special 75th anniversary Lincoln Institute Dialogue series continues on December 8 with a discussion about sustainability in the U.S. West. Learn more about the Lincoln Institute's 75th anniversary and related events.  
---
Katharine Wroth is the editor of Land Lines. 
Photo: Octavio Frias de Oliveira Bridge, São Paulo, Brazil. Credit: iStock/thiagogleite.
Economic Development
,
Infrastructure
,
Municipal Fiscal Health
,
Public Finance
,
Value Capture