Native American Internship Program Prepares a New Generation of Water Experts in the Colorado River Basin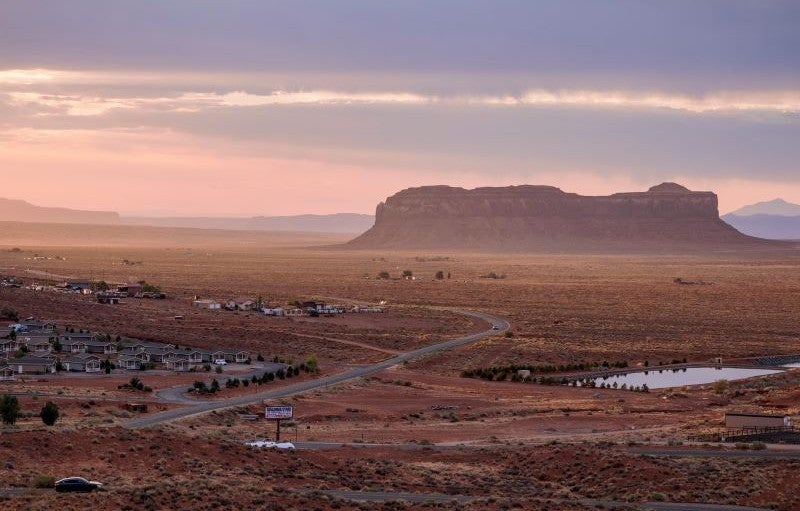 As a hydrologist with the Navajo Nation Water Resources Department, Ryan Barton says his office is facing a big challenge: capacity. "Meaning, not enough people for the positions we have to cover all 27,000 square miles of the Navajo Nation," he says. Encompassing an area roughly three times the size of New Jersey within Arizona, New Mexico, and Utah, the Navajo Nation is home to an estimated 170,000 people. With as much as 30 percent of that population lacking clean, reliable drinking water in the midst of a two-decades-long drought, there's more work to do—from water infrastructure projects to drought mitigation measures to improving small irrigation systems—than there are staff members to do it.
As overextended as Barton's department is, the Navajo Nation has a sizable water resources staff compared to some of the smaller tribes in the Colorado River Basin, a vast region that covers parts of seven U.S. states and northern Mexico. The region's 30 sovereign tribes have some of the oldest and highest-priority water rights in the basin, but many haven't been able to fully realize those rights due to a lack of staffing capacity, ongoing legal battles—including a case recently heard at the Supreme Court—and a history of being shut out of policy decisions. It's a situation that will grow more critical as the river basin experiences long-term aridification due to climate change.
That's one reason the Lincoln Institute's Babbitt Center for Land and Water Policy partnered with the Catena Foundation and the Mighty Arrow Family Foundation to create a Native American Water and Land Internship in 2022. Run by the Institute for Tribal Environmental Professionals (ITEP) at Northern Arizona University, the program aims to encourage more indigenous students to gain experience in land and water management.
Last year's pilot program created 12 summer internships at nine host sites, from the Navajo Nation to the U.S. Geological Survey to the Nature Conservancy, and the Lincoln Institute hosted four additional internships, two with the Babbitt Center. ITEP is hoping to expand the program for 2023, if funding allows, placing 24 interns over the summer and creating 10 more part-time, semester-long positions during the school year.
"Through this program, we hope we can help address the staffing issue, or the availability of expertise, [by training] students who have both an academic and an experiential background to fill positions at these tribes," said Mansel Nelson, environmental education outreach program manager at ITEP, who manages the internship program. Training the next generation of Native American professionals who can also work in water and land management roles in non-tribal settings, from government agencies to nonprofit organizations, will also help broaden the experience and perspectives being brought to bear on addressing water management challenges, says Babbitt Center director Jim Holway.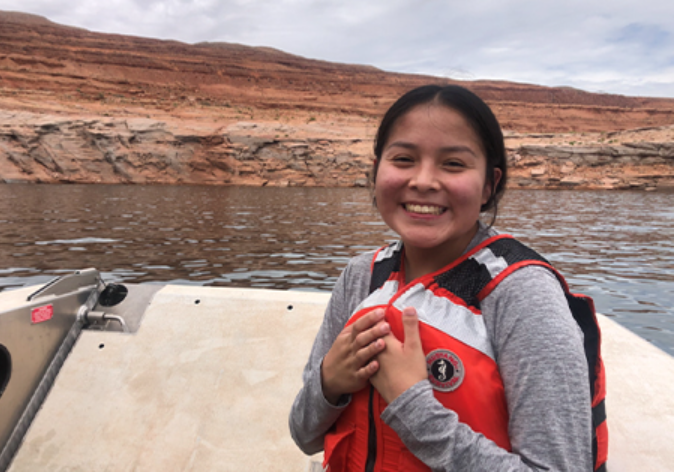 Last year's interns gained a variety of skills and experiences across different settings, from lakes to laboratories. Among other tasks, Barton's intern Fred Toins III assisted with the ongoing project of quantifying the Navajo Nation's water resources. That involved using specialized surveying equipment to collect data—think latitude, longitude, and elevation around and within bodies of water—and then using that data to create precise geospatial information system (GIS) models. "With these models, what we can do is determine the storage capacity of these lakes and reservoirs," Barton said, and track that quantity based on changing water levels.
Toins also helped conduct a crop inventory of irrigated Navajo lands along the San Juan River in New Mexico. That project also involved field data collection—recording crop types and their area on maps—and extensive use of ArcGIS to map the data. Speaking with farmers in the area offered another less technical but still crucial experience, Barton said: "One of the things they gained from that experience was public outreach and interacting with the public, which is an important part of being a public servant." 
Nelson says working on a range of professional skills is part of the goal of the program: "Sometimes it's soft skills, like working together with a team, and sometimes it's more specific scientific skills, like collecting data and making measurements."
René Castillo, who completed a virtual internship with one of Barton's colleagues in the Navajo Nation Department of Water Resources, gained valuable practical experience that complemented her academic coursework. "Before ITEP, I didn't have any real-world application experience of the science that I major in," Castillo wrote of her experience. "I got hands-on experience using remote sensing, hydrology, and GIS analysis together to help people and do cool science." Castillo learned other skills, too, she added — gaining confidence in her presentation and leadership skills, and picking up coding and cartography skills using Google Earth Engine and GIS mapping. 
While some students learned new software or gained fieldwork experience during their internships, others, like Jaymus Lee, were introduced to the power of policy. Lee is finishing up a master's degree in controlled environment agriculture (CEA) at the University of Arizona. He already knew a lot about the science of food systems; for his master's thesis, he's piloting an off-grid indigenous greenhouse at Diné College in the Navajo Nation. But as an intern for the Babbitt Center last summer, he gained a much clearer understanding of the centrality of water in agriculture—and how tribal law and water rights fit into the larger context of Colorado River Basin drought. 
"A lot of it was eye-opening for me," Lee said. "When these big discussions happen about water in the Southwest, a lot of times tribes aren't involved—and it's interesting, because they hold anywhere from 20 to 25 percent of the water rights to the Colorado River." 
Lee says his deeper understanding of water rights and policy will be a big help as he launches an innovative venture called Indigeponics with another Navajo student. "We're using hydroponic systems to grow indigenous plants," Lee explains, "and then creating an educational curriculum to give back to tribal communities so that they can understand what CEA [controlled environment agriculture] and hydroponics could bring to their community as far as food security and economic development."
Hydroponic farming uses up to 90 percent less water than traditional agriculture, and often the water can be recycled continuously. "In places that have limited resources, you could potentially run a farm year-round with little water and very little electricity," Lee said. The idea went over well with many of the farmers he interviewed as part of a Babbitt Center project during his internship. "A lot of them were very interested in it," Lee said. "We're hoping that we can maintain those connections and create a network amongst different tribal communities."
As the nascent internship program evolves, Nelson would like to see more participation from smaller tribes, more funding so it doesn't lose momentum, and more Native American students studying science in general. A military veteran and former chemistry teacher, Nelson has for more than 20 years conducted outreach in K–12 schools encouraging indigenous students to enter the sciences. 
Last year's interns gave him reason to be hopeful. The program required participants to write weekly reports, and one of the participants often commented that she "was looking at how to apply the things she was learning by doing that research in her own community," Nelson said. "Which I thought was great. I mean, that's the intent of these internships … what they're learning can be applied in their own communities to benefit those communities."
Holway hopes the ITEP program will contribute to important shifts underway in the basin, noting that the Babbitt Center is also active in the Water & Tribes Initiative and is seeking partners to help develop a Native American water internship, mentoring, and curriculum development effort at Fort Lewis College in Durango, Colorado, which has more Native American undergraduate students than any college in the country. "The basin is facing unprecedented challenges," Holway said. "That's highlighting the need to prepare our next generation of leaders and address a long-overdue obligation to engage and empower Native peoples and communities in conversations and decisions about the future of the Colorado River Basin."
Learn more about opportunities to support ITEP's Water and Land Summer Internship program, and find out how to participate as an intern or host site.
---
Jon Gorey is a staff writer for the Lincoln Institute of Land Policy.
Image: Sunset on the Navajo Nation near Monument Valley, Arizona. Credit: Cavan Images via iStock/Getty Images Plus.
---
Related Content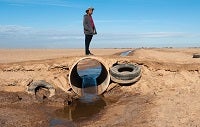 Water & Tribes Initiative Encourages Collaborative Approach to Colorado River Management
Ecology
,
Environment
,
Intermountain West
,
Natural Resources
,
Water
,
Water Planning