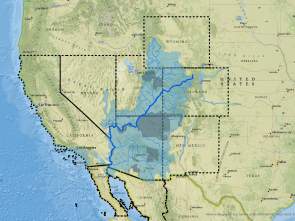 A StoryMap Exploring the Colorado River Through Data
Although not the largest or longest river in the World, the Colorado River is known for its many legacies. The Babbitt Center for Land and Water Policy developed a StoryMap about the Colorado River, its tributaries, and the lands upon which communities, economies, and the environment depend. It is also about the places, people, and policies that have shaped water and land management and planning in the past and will continue to shape decisions about how we use, share, and conserve these finite resources today and in the future. With a widening gap between supply and demand, the water resources upon which land use, planning, and development depend are more vulnerable than ever. 
This story is told across five sections:
A Balancing Act
Of Storage and Shortages
Who's Using Water and Where?
Water Management Hurdles
Tools for a Resilient Future
View the StoryMap through the ArcGIS website.
Colorado River Basin GIS Open Data Portal
The Babbitt Center has created an Esri ArcHub open data portal that contains the data, maps, and related reports seen or mentioned in The Hardest Working River in the West StoryMap. This allows individuals to download and explore the data for themselves. Learn more and browse the database.