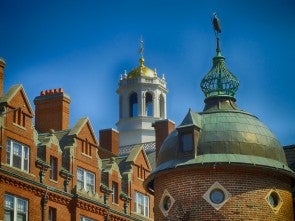 Payments in Lieu of Taxes by Nonprofits
Which Nonprofits Make PILOTs and Which Localities Receive Them?
This report provides more information than was previously available in any single source on the individual nonprofits that make payments in lieu of taxes (PILOTs) and the localities which receive them. PILOTs are voluntary payments made by tax-exempt private nonprofits as a substitute for property taxes.
While the term PILOT can refer to many different types of payments, this report imposes a consistent definition that excludes any payments from for-profit companies or public entities (e.g., housing authorities) and any payments from nonprofits that are not voluntary, such as fees. Data came from a 2011 survey of local government officials in 599 jurisdictions with the largest nonprofit sectors and a three-year data collection project. Key findings from the study are:
PILOTs have been received by at least 218 localities in at least 28 states since 2000; these payments are collectively worth more than $92 million per year. This is a much greater number of PILOTs than identified in previous studies, with the increase due to a more expansive methodology.
Although more than 90 percent of all PILOT revenue comes from "eds and meds"—college payments are far more important than hospital payments with colleges contributing about two-thirds of PILOT payments and hospitals another quarter.
Many other types of nonprofits also make PILOTs even if their contributions are generally small. This report identifies nonprofits that make PILOTs of these types: housing (47), religious organizations including churches (36), social services (15), and arts/culture (11).
The Northeast accounts for roughly 75 to 80 percent of PILOT activity, with the largest share in Massachusetts and Pennsylvania.
Most nonprofits make fairly small PILOTs while most revenue generated comes from a small number of multi-million dollar PILOTs. As a result, the average PILOT for all nonprofits ($292,952) is nearly 10 times larger than the median ($30,000).
While at least 420 nonprofits make PILOTs, the majority of revenue comes from just 10 organizations: Harvard University, Yale University, Stanford University, Brown University, Boston University, Massachusetts General Hospital, Dartmouth College, Brigham & Women's Center, Massachusetts Institute of Technology, and Princeton University (in order of payments, beginning with the highest).

PILOTs generate little revenue in most localities—accounting for less than 1 percent of total general revenue in 165 out of 181 localities that have information available.
Localities use a variety of methods to receive PILOTs; the most common are long-term contracts (used by 58 percent of localities) and routine annual payments (34 percent).
Most PILOTs go to cities and towns, but at least seven school districts and four counties also receive PILOTs.
Download data from the report: