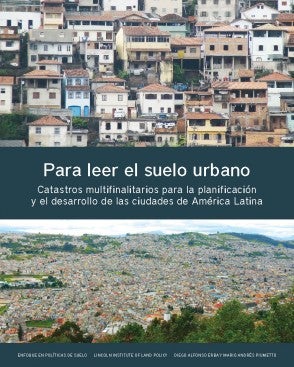 Para leer el suelo urbano
Catastros multifinalitarios para la planificación y el desarrollo de las ciudades de América Latina
In Latin America, a territorial cadastre is a public registry that manages information relating to parcels of land. As an institution, the cadastre is common in many countries, although it does not exist in the United States. The cadastre plays a key role in urban planning and property valuation in Latin America.
An increasing number of jurisdictions in Latin America have begun to move from the orthodox cadastre model imported from Europe to the multipurpose cadastre (MPC) model. An MPC is based on a partnership of stakeholders committed to generating extensive, detailed, and up-to-date information about a city. In addition to legal, economic, and physical characteristics contained in the orthodox cadastre, an MPC also shares alphanumeric data, maps, and human and financial resources. In recent years, conditions in many countries of Latin America have favored the implementation of MPCs at reasonable cost.
This Spanish-language report, Para leer el suelo urbano: Catastros multifinalitarios para la planificación y el desarrollo de las ciudades de América Latina (Making Land Legible: Cadastres for Urban Planning and Development in Latin America), describes the past, present, and potential future role of cadastres as a land policy tool in Latin America. It describes how national, regional, and local jurisdictions across Latin America have used updated orthodox and/or multipurpose cadastres to strengthen urban financing and inform planning decisions.
The following set of practices and policies will facilitate the implementation of an MPC.
Assess and utilize existing data.
Use existing technology to the fullest, and explore free software alternatives.
Coordinate actions and databases with the greatest number of partners possible.
Incorporate data on informal settlements in cadastre maps and characterize the parcels in the alphanumeric database.