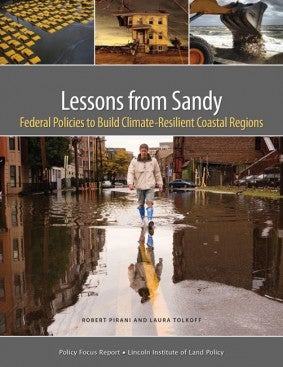 Federal Policies to Build Climate-Resilient Coastal Regions
Robert Pirani and Laura Tolkoff
When Hurricane Sandy made landfall on October 29, 2012, it brought much of the New York–New Jersey–Connecticut metropolitan area to a standstill. It flooded key arteries in and out of New York City, including the Brooklyn–Battery Tunnel and Amtrak's Hudson River Transit Tunnel. It disabled power plants and transmission lines, leaving 8.5 million customers in three states without electricity, some for weeks. The storm surge easily overtopped protective dunes and floodwalls from Atlantic City to New London, damaging more than 600,000 homes and killing 60 people.
In the months following the disaster, the federal government marshaled significant financial and technical resources to help communities recover and rebuild. With preliminary damage estimates in New York, New Jersey, and Connecticut topping $50 billion, the scope of the devastation inspired new ideas about how to adapt to changing conditions.
Hurricane Sandy was a wakeup call that elevated the discussion about disasters and climate change at all levels of government. Public officials realized that the regional reach of the storm demanded a new approach to disaster relief and recovery. Current strategies for disaster recovery, urban planning, and coastal management were no longer viable; in the face of rising sea levels, these outdated approaches undermined riverine and coastal ecosystems, endangering people, property, and the economy.
The response to Hurricane Sandy offers a number of important lessons for building climate-resilient coastal regions. This report defines resilience as the capacity to recover quickly from shocks and stressors while at the same time reducing future risk. By strengthening and integrating this connection between disaster recovery and rebuilding—between short-term and long-range actions following a disaster—we gain further critical opportunities to build even greater resilience.
This report, copublished with Regional Plan Association, identifies a set of policies, regulations, and administrative practices that federal agencies can adopt to help coastal metropolitan areas become more resilient. In addition, this research documents how state and local governments recovering from Hurricane Sandy sought to use federal aid to create a more resilient region, and it describes the obstacles they encountered.
The report concludes with specific policy recommendations to position federal agencies to help coastal regions adapt to a changing climate. These recommendations can help advance a national strategy for disaster recovery that helps coastal regions adapt to future conditions by integrating hazard mitigation and risk management approaches into federal policies. They include the following measures:
Anticipate future climate impacts during the disaster recovery and rebuilding processes.
Align federal policies and programs to reduce risk and restore the health and productivity of coastal resources over the long term.
Enable effective urban infrastructure and development patterns.
Develop and share data, guidance materials, and decision-support tools to help governments and property owners make forward-thinking decisions.
About the Authors
Robert Pirani is a Senior Fellow at Regional Plan Association and the Program Director for the New York–New Jersey Harbor Estuary Program (HEP) at the Hudson River Foundation. Prior to joining the Foundation in 2014, Mr. Pirani was RPA's Vice President for Environmental and Energy Programs for more than 20 years.
Laura Tolkoff is Associate Planner for the Environmental and Energy Programs at Regional Plan Association, where she has focused on advancing climate mitigation and climate resilience through research, advocacy, and planning. She also manages RPA's energy program, which seeks to develop a contemporary model of energy infrastructure in the New York metropolitan region.