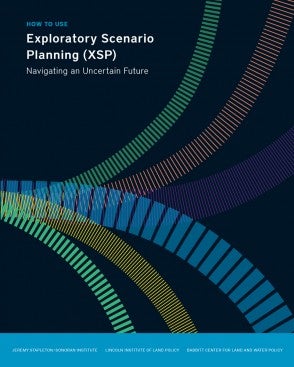 How to Use Exploratory Scenario Planning (XSP)
Navigating an Uncertain Future
"This essential tool for planners and policy makers will encourage replication of exploratory scenario planning processes in many more communities."
— Jennifer Minner, Associate Professor, Department of City and Regional Planning, Cornell University
Exploratory scenario planning (XSP) can help communities prepare for uncertainties posed by climate change, pandemics, automation, and other unprecedented twenty-first-century challenges. This manual is a comprehensive resource for anyone interested in using this emergent planning approach, which is effective at the local, regional, or organizational level. Through the XSP process, stakeholders envision and develop various potential futures (i.e., scenarios) and consider how to measure and prepare for each, rather than working toward a single shared vision for the future. Through instructive case studies, recommendations, sample workshop agendas, and more, this manual equips would-be practitioners with the background knowledge, procedural guidance, and practical strategies to implement this planning tool successfully. Readers will be prepared to facilitate—or even lead—an effective, impactful XSP process in their own settings.
About the Author
Jeremy Stapleton is director of climate resilience at the Sonoran Institute.
Reviews
"The case studies [in this report] illustrate, in practical terms, how to apply the methods—something largely missing in the scenario planning literature. The experience-based lessons learned are among the most valuable elements for professionals who are considering XSP."
— Ralph Marra, Founder and Senior Principal, Southwest Water Resources Consulting, LLC