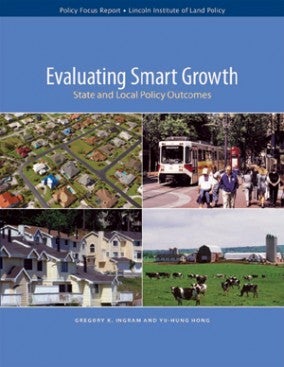 State and Local Policy Outcomes
As smart growth programs in some states approach their fourth decade, new climate change concerns have raised the stakes on their success in managing urban development. This is an opportune time to evaluate the effectiveness of smart growth programs in achieving their goals, and the implications for future land use planning by state and local policy makers.
This Policy Focus Report complements a larger volume that compares four states with smart growth programs (Florida, Maryland, New Jersey, and Oregon) and four other states without such programs (Colorado, Indiana, Texas, and Virginia).
The analysis reveals that community planning programs vary greatly across the four smart growth states, producing a range of outcomes that overlap with some of those in the other states. Outcomes and policies were found to be more continuous across the eight states rather than dichotomous between the two groups of states.
This report is a summary of the conclusions and recommendations in the volume Smart Growth Policies: An Evaluation of Programs and Outcomes.
About the Authors
Gregory K. Ingram was president and CEO of the Lincoln Institute of Land Policy from 2005 to 2014.
Yu-Hung Hong was a visiting fellow at the Lincoln Institute of Land Policy.
Tags:
Conservation
,
Development
,
Economics
,
Environmental Management
,
Environmental Planning
,
Growth Controls
,
Growth Management
,
Land Market Monitoring
,
Land Market Regulation
,
Land Monitoring
,
Land Use
,
Land Use Planning
,
Planning
,
Regulatory Regimes
,
Smart Growth
,
Sustainable Development
,
Urban
,
Urban Design
,
Urban Development
,
Urban Revitalization
,
Urban Sprawl
,
Urbanism