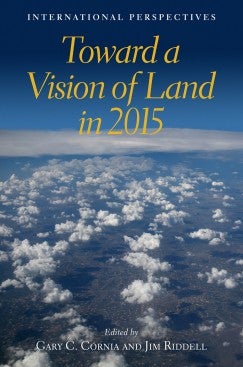 Toward a Vision of Land in 2015
International Perspectives
Edited by Gary C. Cornia and Jim Riddell
Lincoln Institute of Land Policy
Based on the proceedings of a 2006 conference cohosted by the Lincoln Institute of Land Policy and the International Center for Land Policy Studies and Training (ICLPST) in Taiwan, this book offers insight to policy and decision makers on how society views, values, and uses land. Conference participants discussed topics of contemporary importance as well as those they thought would be relevant in 2015, the year the United Nations set as the target for their Millennium Development Goals.
Topics include using land as a revenue source for the funding of government or as a tool in economic development, technical and policy innovations to improve our understanding of land use decisions, and the need for a careful reevaluation of the process of thinking about land and its fundamental importance in a society.
On many dimensions, these chapters offer optimistic outlooks for the future of land. Technology is changing the way land is managed and used; and the evidence of improvements in land records, agricultural technology, estimation of land values, and dissemination of information about land use is encouraging. Worth considering are the suggestions to examine land decisions within a framework of sustainable development, particularly regarding the sustainability of food supplies.
About the Editors
Gary C. Cornia is professor of public management in the Romney Institute of Public Management at the Marriott School of Management of Brigham Young University in Provo, Utah.
Jim Riddell is former chief of FAO (United Nations Food and Agriculture Organization) Land Tenure Service. He serves as a course coordinator at the International Center for Land Policy Studies and Training (ICLPST) in Taiwan and is based in Edina, Minnesota.
Table of Contents
Introduction
1. Changing Views, Values, and Uses of Land, Gary C. Cornia and Chi-Mei Lin
Public Finance and Land Administration
2. The Property Tax in Developing Countries: Current Practice and Prospects, Roy Bahl and Jorge Martinez-Vazquez
3. Property Taxation in a Global Economy: Is a Capital Gains Tax on Real Property a Good Idea?, Sally Wallace
Local Economic Development
4. The Sprawl of Economics: A Response to Jan Brueckner, Gerrit-Jan Knaap
5. Urban Regeneration and Sustainable Environment: A Nature Conservation Approach for the Green Island of Taiwan, John Chien-Yuan Lin
6. The Role of Local Government in Contemporary Economic Development, Michael I. Luger
Institutional Reform
7. Property Valuation in the Twenty-first Century, Peter F. Colwell and Joseph W. Trefzger
8. Global Challenges for Land Administration and Sustainable Development, Ian Williamson
9. The Multilevel Development Bank as Midwife: Delivering Property Rights Reform, John W. Bruce
Changing Visions of Land
10. Land and Economic Development: New Institutional Arrangements, Daniel W. Bromley
11. Social Dimensions of Rural Resource Sustainability, Anthony Bebbington
12. Future Challenges of Sustainable Land Use in Taiwan, Kuo-Ching Lin
13. Environmental Planning for a Sustainable Food Supply, Robert E. Evenson
14. Toward a 2015 Vision of Land, Jim Riddell
Reviews
"This miscellany of observations and ideas surrounding the value, use, and ownership of real property views the land from many perspectives. Whereas no one can predict with certainty how things will be in 2015, the book highlights the factors that are already shaping the times to come. In doing so, it offers plenty to think about."
— Peter F. Dale, Emeritus Professor, University of London; Former Professor of Land Management, University College London
"Toward a Vision of Land in 2015 is the outcome of research in the area of land management and presents the approaches of numerous international experts and authors within the field. It serves as a reference regarding land policy and administration providing decision makers with the required guidelines toward the successful management of land."
— Sami Faiz, Professor of Computer Sciences, National Institute of Applied Sciences and Technology, Tunisia