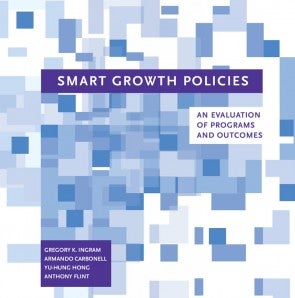 An Evaluation of Programs and Outcomes
Lincoln Institute of Land Policy
Over recent decades as concerns mounted about the economic, social, and environmental impacts of sprawl, many states and localities began to put policies in place to shape settlement patterns. By the 1990s, these efforts—generally intended to encourage more compact development, greater transit use, and enhanced environmental protection—came to be known as "smart growth" programs. Despite their widespread adoption, there has been no systematic assessment of their effectiveness or consequences.
The Lincoln Institute of Land Policy collaborated with 18 leading land use researchers and planners to measure and compare outcomes in four states with statewide smart growth programs (Florida, Maryland, New Jersey, and Oregon) and four states without such programs (Colorado, Indiana, Texas, and Virginia). The investigation reveals great heterogeneity. No state did well on all smart growth principles or on all measures, although individual states typically succeeded in their top priority policy area. The experts in public policy and planning compared the five main smart growth objectives using 52 indicators from U.S. Census Bureau data.
The conclusions and recommendations in this volume are also summarized in a Policy Focus Report, Evaluating Smart Growth.
Community Development
,
Conservation
,
Development
,
Economic Development
,
Economics
,
Environmental Planning
,
Ethics
,
Growth Controls
,
Growth Management
,
Land Market Monitoring
,
Land Monitoring
,
Land Use
,
Land Use Ethics
,
Land Use Planning
,
Local Government
,
Natural Resources
,
Open Space
,
Planning
,
Public Policy
,
Reuse of Urban Land
,
Smart Growth
,
Suburban
,
Sustainable Development
,
Urban
,
Urban Development
,
Urban Revitalization
,
Urban Sprawl
,
Urbanism