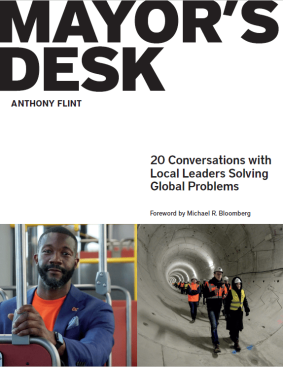 20 Conversations with Local Leaders Solving Global Problems
Lincoln Institute of Land Policy
In this collection of interviews, with an introduction by former New York City mayor Mike Bloomberg, 20 mayors from five continents share their strategies for tackling global challenges at the local level. During a period dominated by racial unrest, the Covid pandemic, and the increasingly vivid impact of the climate crisis, these enterprising leaders have made their cities more healthy, functional, fiscally sound, and sustainable places to live and work. Mayor's Desk argues that local governments are the real engines of global change. Angela Brooks, president of the American Planning Association, writes an impassioned afterword. Packed with full-color photography, this book will inspire, educate, and surprise all who strive to influence the evolution of their cities.
Mayor's Desk includes interviews with the following 20 mayors:
Ben Walsh (Syracuse, NY)
Manuel Velarde (San Isidro, Lima, Peru)
Hanna Gronkiewicz-Waltz (Warsaw, Poland)
Gleam Davis (Santa Monica, CA)
Marvin Rees (Bristol, England)
Marty Walsh (Boston, MA)
Kostas Bakoyannis (Athens, Greece)
Libby Schaaf (Oakland, CA)
Muriel Bowser (Washington, DC)
Kate Gallego (Phoenix, AZ)
Sumbul Siddiqui (Cambridge, MA)
Frank Jackson (Cleveland, OH)
Claudia Lόpez (Bogotá, Colombia)
Randall Woodfin (Birmingham, AL)
Miro Weinberger (Burlington, VT)
Jesse Arreguín (Berkeley, CA)
Yvonne Aki-Sawyerr (Freetown, Sierra Leone)
Oh Se-hoon (Seoul, South Korea)
Aftab Pureval (Cincinnati, OH)
Shelly Oberoi (Delhi, India)
Anthony Flint is a senior fellow at the Lincoln Institute of Land Policy. He is host of the Land Matters podcast, contributing editor at Land Lines magazine, and a correspondent at Bloomberg CityLab and The Boston Globe. He is the author of Modern Man: The Life of Le Corbusier, Architect of Tomorrow (New Harvest); Wrestling with Moses: How Jane Jacobs Took on New York's Master Builder and Transformed the American City (Random House); and This Land: The Battle over Sprawl and the Future of America (Johns Hopkins University Press).