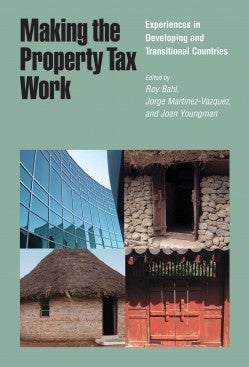 Making the Property Tax Work
Experiences in Developing and Transitional Countries
Lincoln Institute of Land Policy
Students of public finance and fiscal decentralization in developing and transitional countries have long argued for more intensive use of the property tax. It would seem the ideal choice for financing local government services. Based on a Lincoln Institute conference held in October 2006, the chapters in this book take this argument one step further in drawing on recent experience with property tax policy and administration.
Two main sets of issues are addressed. First, why hasn't the property tax worked well in most developing and transitional countries? Second, what can be done to make the property tax a more relevant source for local governments in those countries? The numerous advantages of the property tax as a local government revenue source are analyzed and discussed in detail, as are the many perceived disadvantages.
Compiled by editors Roy Bahl, Jorge Martinez-Vazquez, and Joan Youngman, this volume examines whether the property tax can be made to work under a variety of circumstances. The underlying theme that runs through most of the chapters is that the property tax is in a perpetual transition, and its policies and administration are always changing. Yet most analyses are optimistic that the transitions are moving in the right direction.
Table of Contents
Introduction
1. The Property Tax in Practice, Roy Bahl, Jorge Martinez-Vazquez, and Joan Youngman
The Setting
2. The Property Tax in Development and in Transition, Joan Youngman
3. The Determinants of Revenue Performance, Roy Bahl and Jorge Martinez-Vazquez
Commentary: Gregory K. Ingram
Fairness, Political Issues, and Scope
4. Incidence and Economic Impacts of Property Taxes in Developing and Transitional Countries, Edward B. Sennoga, David L. Sjoquist, and Sally Wallace
5. Property Tax and Rural Local Finance, Richard M. Bird and Enid Slack
6. Alternate Value Capture Instruments: The Case of Taiwan, Steve Waicho Tsui
Commentary: Indira Rajaraman
Commentary: Natalia V. Takhtarova
Data Collection and Information Technology
7. Data Challenges in Implementing a Market Value Property Tax: Market and Market-Informed Valuation in Russia, Ukraine, and the Baltic States, John L. Mikesell and C. Kurt Zorn
8. Computer-Assisted Mass Appraisal Options for Transitional and Developing Countries, Joseph K. Eckert
Commentary: Paul Smoke
Approaches to Valuation
9. Is Area-Based Assessment an Alternative, an Intermediate Step, or an Impediment to Value-Based Taxation in India?, U. A. Vasanth Rao
10. The Feasibility of Site Value Taxation, Riël C. D. Franzsen and William J. McCluskey
Commentary: Gary Cornia
Property Rights, Collections, and Enforcement
11. Taxing Land Without Market Value in Ancient China, Yu-Hung Hong
12. Extending Property Taxation into Previously Untaxed Areas: South African Townships and Tribal Areas, Michael E. Bell and John H. Bowman
13. Collection and Enforcement of the Property Tax, Sally Powers
Commentary: Claudia M. De Cesare
The Baltic Experience
14. Land Taxation Reform in Estonia, Tambet Tiits
15. Value-Based Property Taxes in Lithuania, Albina Aleksiene and Arvydas Bagdonavicius
Commentary: Vytautas Šulija