Land Matters Podcast: A Force of Nature on Chicago's South Side: Rev. Otis Moss III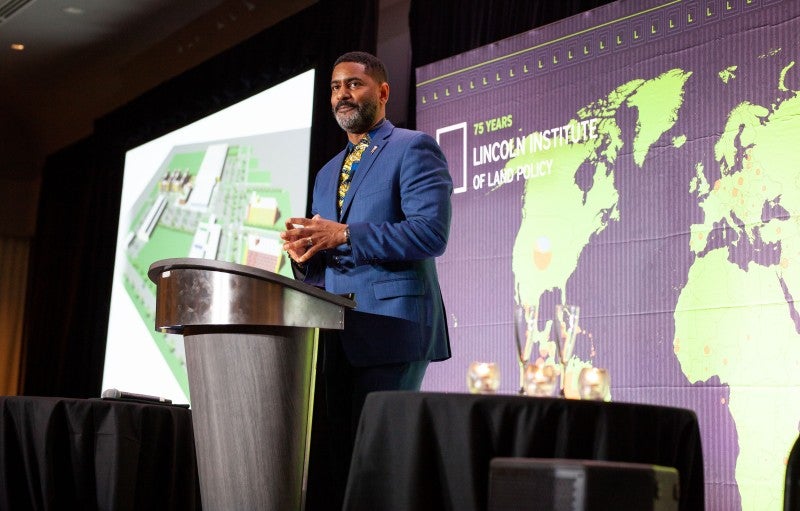 On the South Side of Chicago, Rev. Otis Moss III, Senior Pastor of Trinity United Church of Christ, has led initiatives in green building and community empowerment that are having a ripple effect across the city and beyond.
He orchestrated an extraordinary green renovation of Trinity Church, as well as the development of a nearby library, affordable housing complex, and health care center. His efforts are attracting attention for three guiding principles: that the work be in line with the best possible green building practices; that the projects are built by craftspeople from the local community; and that at least some of those workers include the formerly incarcerated. "We use the term creation care—that we are called to be stewards of creation as human beings" working in the built environment, Moss said in an interview in this latest episode of the Land Matters podcast.
Moss was the featured speaker at the Lincoln Institute's 75th anniversary celebration outside of Phoenix last month. (The Phoenix area has a special place in the history of the organization, as the founder, John C. Lincoln, moved to the desert Southwest in the 1930s from Cleveland, where he had made his fortune as an inventor and entrepreneur. He established the Lincoln Foundation in Phoenix in 1946.) In his talk and in the interview, Moss notes some of the stumbling blocks along his way—an older congregant was miffed because he thought the planned green roof on the church was a putting green—and how a compact organization can have an outsized impact, in part by utilizing the "jazz ethic" of different individuals both playing solos and coming together as a whole.
You can listen to the show and subscribe to Land Matters on Apple Podcasts, Google Podcasts, Spotify, Stitcher, or wherever you listen to podcasts. 
---
Further Reading
Otis Moss III: Care for the land is intimately tied to Black liberation (Thriving Congregations)
Faith and Social Action Go Hand in Hand For South Side Pastor Otis Moss III (WBEZ)
Voter suppression kept my grandfather from voting. It won't stop me. (The Washington Post)
---
Anthony Flint is a senior fellow at the Lincoln Institute of Land Policy, host of the Land Matters podcast, and a contributing editor of Land Lines. 
Image: Reverend Otis Moss III delivers the keynote address at the Lincoln Institute's 75th anniversary celebration. Credit: Scott Foust Events.
Economic Development
,
Housing
,
Inequality
,
Poverty
,
Resilience
,
Urban Revitalization