Season 2, Episode 1: In First of 75th Anniversary Shows, An Interview with Bill McKibben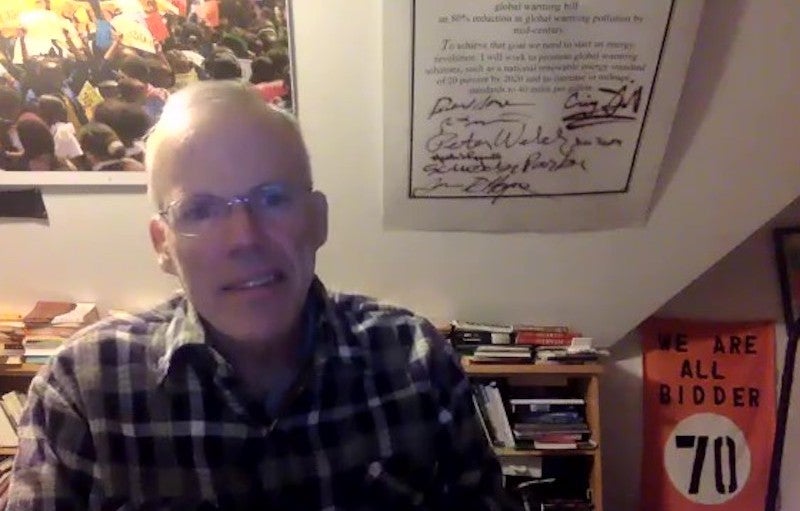 The Lincoln Institute is celebrating its 75th anniversary in 2021—our origins date to the original Lincoln Foundation, founded in 1946—and throughout the year the Land Matters podcast will examine different aspects of our work, and the people and places that have had an influence on the organization as it has evolved over the years.
The series begins with one of the most urgent issues facing the planet, and a prominent part of the Lincoln Institute's portfolio: the climate crisis. Author and journalist Bill McKibben breaks down the actions of the Biden administration to confront global warming, from rejoining the Paris accord to halting the Keystone XL pipeline. Land use and land policy, he says, are critical components as the planet readies for inevitable impacts such as rising seas.
"It's crucial in two ways," he says. "We need protection and barrier against the forces we have unleashed–the sea is coming up higher, the winds are rising. It's all simple physics at some point."
At the same time, "there's going to be a lot of places we can't protect, and we simply need to understand that and begin planning for how we move people away from places that are going to be uninhabitable for humans."
He anticipates an estimated 1 billion "climate refugees," and cites as an example the destructive wrath of late-season hurricanes last year making landfall in Honduras, destroying 40 percent of that nation's GDP. By contrast, the toll of the deadly 2005 storm, Katrina, was one percent of America's GDP.
Climate change has been a priority of the Lincoln Institute for many years, advancing groundbreaking solutions in both mitigation and adaptation, with special attention to the role of land.
You can listen to the show and subscribe to Land Matters on Apple Podcasts, Google Play, Spotify, Stitcher, or wherever you listen to podcasts.
---
Anthony Flint is a senior fellow at the Lincoln Institute of Land Policy and a contributing editor of Land Lines.
Photograph Credit: Bill McKibben.
---
Related:
Joe Biden's Cancellation of the Keystone Pipeline Is a Landmark in the Climate Fight, The New Yorker
Here Are All the Climate Actions Biden Took on Day One, Scientific American
A 'Nerve Center' for Climate in the Biden White House, The New York Times
Urban Planning Tools for Climate Change Mitigation, Lincoln Institute
Lessons from Sandy: Federal Policies to Build Climate-Resilient Coastal Regions, Lincoln Institute
Buy-In for Buyouts: The Case for Managed Retreat from Flood Zones, Lincoln Institute
Nature and Cities: The Ecological Imperative in Urban Design and Planning, Lincoln Institute
75th Anniversary website and Land Lines commemorative issue