Episode 16: Reflections on a Changing Desert Southwest from Phoenix Mayor Kate Gallego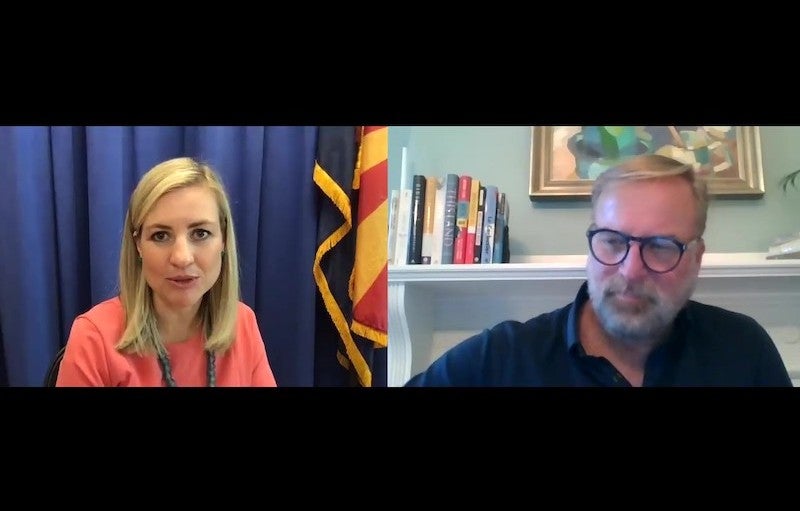 The city of Phoenix, America's fifth-largest metropolis, is going through some major changes—in demographics, voting patterns, and the physical landscape that has long defined the region.
In this episode of the Land Matters podcast, Phoenix Mayor Kate Gallego, reelected to a second term in November, reflects on a supercharged political season, the battle against COVID, and how, among other changes, Phoenix is becoming a more sustainable, and more urban, place. Historically known for sprawling suburban development, the city is taking steps to conserve water, moving forward on extensions of its light rail network, and increasing its commitment to providing affordable housing.
Phoenix has long been a fast-growing region, but the pace has picked up recently, Gallego says, as new residents flock there – some simply seeking relief from more expensive cities, others untethered from offices by the pandemic and taking advantage of the flexibility that working remotely provides. "We've seen many people voting with their feet and coming to our community," she says.
Given that influx, maintaining affordability is one of the key drivers of a move towards "a more urban form," she says. Under her leadership, the city is shifting toward more multifamily housing and greater height and density downtown, all served by the growing light rail network. Residents are increasingly asking for these features, she says—and the added benefit is that kind of growth is more sustainable.
The interview with Phoenix Mayor Kate Gallego is available online and will be available in print, as the latest installment of the Mayor's Desk feature—interviews with chief executives of cities from around the world.
You can listen to the show and subscribe to Land Matters on Apple Podcasts, Google Play, Spotify, Stitcher, or wherever you listen to podcasts.
---
Anthony Flint is a senior fellow at the Lincoln Institute of Land Policy and a contributing editor of Land Lines.
Photograph: Courtesy of Anthony Flint.
---
Further reading:
Making Sense of Place: Phoenix
Water in the West: Finding and Funding Stormwater Capture Solutions
StoryMap: The Hardest-Working River in the West
Mayor's Desk: Phoenix Mayor Kate Gallego on Sustainability and Urban Form
Housing
,
Sustainable Development
,
Water