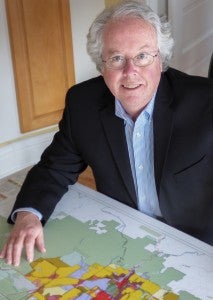 Peter Pollock, FAICP, is an urban and environmental planner based in Boulder, Colorado. Peter manages the Big City Planning Directors Institute at the Lincoln Institute, a program for city planners from the largest cities in the United States.
From 2006 to 2018 he managed Western Programs for the Lincoln Institute. In this role, he worked on climate resilience, collaborative landscape conservation, scenario planning tools, and peer-to-peer learning for planning directors.
He worked for almost 25 years for the City of Boulder, Colorado, as both a current and long-range planner, and served as director of the city's planning department from 1999 to 2006.  
Pollock began his career as the staff urban planner for the National Renewable Energy Lab in Golden, Colorado, where he specialized in solar access protection, energy-conserving land use planning, and outreach to local communities.  
He received his master's degree in landscape architecture at the University of California at Berkeley in 1978 and his bachelor's degree in environmental planning at the University of California at Santa Cruz in 1976.  He was a Loeb Fellow at the Harvard University Graduate School of Design in 1998.