Address, Phone, Fax, and Email
Lincoln Institute of Land Policy
113 Brattle Street
Cambridge, MA 02138-3400
Phone: 617-661-3016 or 800-LAND-USE (800-526-3873)
Fax: 617-661-7235 or 800-LAND-944 (800-526-3944)
Email: help@lincolninst.edu
Director of Public Affairs
Anthony Flint, 617-661-3016 x116
Email: anthony.flint@lincolninst.edu
Publications
Orders may be placed online, or by phone, fax, or email. All orders are fulfilled by Publishers Storage and Shipping Company (PSSC).
Publishers Storage and Shipping Company
46 Development Road
Fitchburg, MA 01420
Phone: 877-526-3257 or 978-829-2535
Fax: 978-348-1233
Email: lincolnorders@pssc.com
Orders
For questions about your order; information on discount prices for booksellers, wholesalers, and multiple-copy orders; or for details on special shipping and handling costs, contact PSSC directly by phone, fax, or email above. Institutional purchase orders are accepted only for orders of $50 or more. For information on exam copies, click here.
Returns
Individuals may return items for any reason for a full refund within 30 days of delivery of a shipment. We will also refund your shipping cost if the return is a result of our error. Booksellers may return items for credit within one year of purchase. When making a return, books must be in saleable condition and all CDs, DVDs, cassette tapes, and VHS tapes must be unopened and in the original plastic wrap. Mail returned items to PSSC's address above and add "ATTN: Returns Department." Please contact PSSC in advance of shipping returns.
Land Lines Magazine Subscriptions
Land Lines is published quarterly, in print and online, and is free when you sign up for a user account. 
Map and Directions
The Lincoln Institute of Land Policy is located at 113 Brattle Street, Cambridge, Massachusetts, just outside of Harvard Square.
Click here for directions via Google Maps
Public Transportation
The local subway stop for Harvard Square is the "Harvard Square" station on the Red Line. Harvard Square also is serviced by numerous bus lines. Please see the MBTA web site for more information. Walk West on Brattle Street, away from Harvard Square. The Lincoln Institute is the dark red house on the right side of the street, just beyond the yellow Henry Wadsworth Longfellow house. It is about a ten minute walk from Harvard Square.
Parking Options
Please note: Parking is not available at Lincoln Institute, and on-street metered parking is limited. Parking garages are located in Harvard Square at the Charles Square Garage (5 Bennett Street, 617-491-0298) and the Harvard Square Parking Garage (20 Eliot Street, 617-354-4168).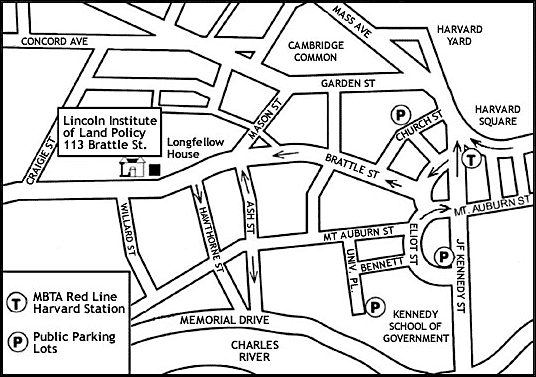 Phoenix Office
Kathryn J. Lincoln, Chair and Chief Investment Officer
Dione A. Etter, Vice President, Investment & Board Management and Corporate Secretary
Paula Randolph, Program and Events Manager
Lincoln Institute of Land Policy
11010 N. Tatum Boulevard, Suite D-101
Phoenix, Arizona 85028
602-393-4300