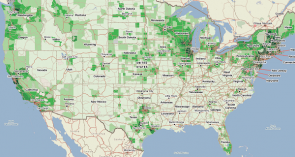 The Place Database Contest 2019
Data can often be inaccessible, hard to locate, or just plain difficult to use. We created The Place Database to make important data about our communities, cities, and states more accessible, easier to use, and visually compelling. Our goal with this competition is to encourage researchers, policymakers, academics, and public officials to use The Place Database to tell stories about places using a technique beyond simple charts or pure numbers. We believe that visualizing data on a map will help people tell a story in a more interesting way. In turn, we hope this will motivate others to take action to address identified problems or learn from policies that produced positive results.
The Lincoln Institute of Land Policy and PolicyMap are pleased to announce the launch of The Place Database Contest. The Lincoln Institute will provide $1,500 each to five authors of submissions who create the most compelling stories through maps using The Place Database. The selected authors will turn their ideas into a one- to two-page written narrative.
This opportunity is open to all individuals and entities (universities, non-profits, community groups, etc.). Submissions must be in English and submitted via the official application form by March 25, 2019 at 11:59pm Eastern Time.
Use Case
Why Do We Keep Building in Vulnerable Coastal Areas? A Brief Look at Boston