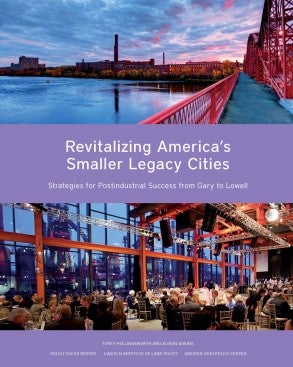 Revitalizing America's Smaller Legacy Cities
Strategies for Postindustrial Success from Gary to Lowell
Torey Hollingsworth and Alison Goebel
"The Revitalizing America's Smaller Legacy Cities: Strategies for Postindustrial Success from Gary to Lowell report has been a great resource I have used throughout the process of forming a new Main Street organization in Lorain. Understanding what strategies and methodologies are working best to revitalize small size postindustrial legacy cities is important for crafting a vision of what type of approaches we need implemented here in Lorain."
— Christopher Cocco, Vice President, Main Street Lorain
This report identifies replicable strategies that have helped smaller legacy cities overcome population loss, neighborhood disinvestment, unemployment, and other problems common in older industrial centers with fewer than 200,000 residents. Practitioners, policy makers, and students will learn how these local leaders found the competitive edge and transformed their cities into thriving, sustainable communities.
For more on larger legacy cities, see Regenerating America's Legacy Cities (2013), by Alan Mallach and Lavea Brachman.
About the Authors
Torey Hollingsworth is the manager of research and policy at the Greater Ohio Policy Center, where she manages and carries out research projects, contributes to policy development, and works with partner organizations statewide. Her current work focuses on understanding the challenges and opportunities for revitalization in Ohio's smaller legacy cities, and she is the author of multiple reports on the topic.
Alison Goebel is executive director of the Greater Ohio Policy Center. She is responsible for charting the center's strategic direction, directing the research, advocacy, and outreach teams, and securing resources for this work. She is the author of a number of research reports and policy briefs related to the revitalization of weak-market cities, transportation funding, and local governance structures in Ohio.