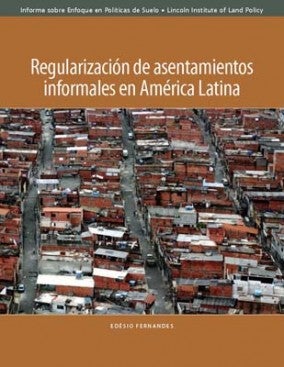 Regularización de asentamientos informales en América Latina
In large Latin American cities the number of dwellings in informal settlements ranges from one-tenth to one-third of urban residences. These informal settlements are caused by low income, unrealistic urban planning, lack of serviced land, lack of social housing, and a dysfunctional legal system. The settlements develop over time and some have existed for decades, often becoming part of the regular development of the city, and therefore gaining rights, although usually lacking formal titles. Whether they are established on public or private land, they develop irregularly and often do not have critical public services such as sanitation, resulting in health and environmental hazards. In this report, Regularización de asentamientos informales en América Latina (Regularization of Informal Settlements in Latin America), author Edesio Fernandes, a lawyer and urban planner from Latin America, studies the options for regularization of the informal settlements.
Regularization is looked at through established programs in both Peru and Brazil, in an attempt to bring these settlements much needed balance and improvement. In Peru, based on Hernando de Soto's theory that tenure security triggers development and increases property value, from 1996 to 2006, 1.5 million freehold titles were issued at a cost of $64 per household. This did result in an increase of property values by about 25 percent, making the program cost effective. Brazil took a much broader and more costly approach to regularization by not only titling the land, but improving public services, job creation, and community support structures. This program in Brazil has had a cost of between $3,500 to $5,000 per household and has affected a much lower percent of the population.
The report offers recommendations for improving regularization policy and identifies issues that must be addressed, such as collecting data with baseline figures to get a true evaluation of the benefit of programs established. Also, it shows that each individual informal settlement must have a customized plan, as a single approach will not work for each settlement. There is a need to include both genders for long-term effectiveness and to find ways to make the regularization self-sustaining financially. Any program must be closely monitored to insure the conditions are improved for the marginalized, as well as be sure it is not causing new informal settlements to be established.
Tags:
Development
,
Dispute Resolution
,
Economics
,
Environmental Planning
,
Favela
,
Growth Controls
,
Growth Management
,
Housing
,
Inequality
,
Informal Land Markets
,
Infrastructure
,
Land Law
,
Land Market Monitoring
,
Land Market Regulation
,
Land Monitoring
,
Land Reform
,
Land Use
,
Land Use Ethics
,
Land Use Planning
,
Land Value
,
Legal Issues
,
Local Government
,
Poverty
,
Public Policy
,
Public Utilities
,
Regulatory Regimes
,
Reuse of Urban Land
,
Slum
,
Spatial Order
,
Sustainable Development
,
Urban
,
Urban Design
,
Urban Development
,
Urban Revitalization
,
Urban Sprawl
,
Urban Upgrading and Regularization
,
Urbanism
,
Zoning