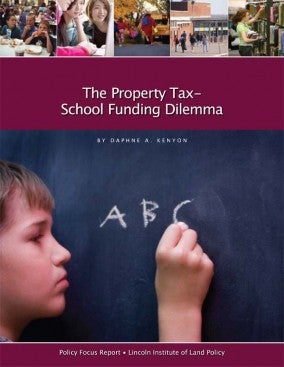 The Property Tax-School Funding Dilemma
Property taxation and school funding are closely linked in the United States, with nearly half of all property tax revenue used for public elementary and secondary education. There is an active policy debate across the country regarding the degree to which public schools should be funded with property tax dollars. Some policy makers and analysts call for reduced reliance on property tax revenue and increased reliance on state funding; others claim that the property tax is a critical ingredient in effective local government. School funding is no less controversial, and nearly every state has dealt with school funding litigation and court mandates at least once over the last several decades.
States experiencing taxpayer revolts among homeowners are tempted to reduce reliance on the property tax to fund schools. But a more targeted approach can provide property tax relief and also improve state funding for public education, according to this new report by Daphne A. Kenyon, a visiting fellow at the Lincoln Institute. "Those who have tried to reduce property taxes and improve school performance at the same time have not met with much success," according to Kenyon.
The report includes a comprehensive review of recent research on both the property tax and school funding, and summarizes case studies of seven states—California, Massachusetts, Michigan, New Hampshire, New Jersey, Ohio, and Texas, the majority of them heavily reliant on property tax revenues to fund schools. Among these states Massachusetts ranks the highest and California the lowest, according to the respective property tax relief and school funding principles presented in the report.
One objective of the report is to provide information helpful to state policy makers and others who are grappling with the twin challenges of court mandates regarding school funding and constituent pressure to lower property taxes. Another objective is to correct some common misconceptions through a critical analysis of nine myths regarding school funding litigation, property tax characteristics, and the state role in funding education.
While there is no one-size-fits-all solution, the report recommends addressing property taxes and school funding separately.
Property tax relief. Arguing that the use of property tax revenue for schools is fundamentally sound, the report points out that increasing state aid for education does not necessarily result in lower property taxes, and it cautions against switching to greater reliance on a sales tax, for example, to fund schools. Instead, a more targeted effort can achieve fairness and relief, with the greater use of circuit breakers that adjust property tax bills based on ability to pay. Many states do not take full advantage of this policy instrument, or limit its application to the elderly.
School funding. Addressing the complex issue of statewide funding for schools, the report also recommends a targeted approach—distributing state aid for public education to the neediest school districts, schools, and students. State policy makers should not aim to provide any specific percentage for the state's share of funding K-12 education, the report concludes.
According to Darcy Saas, the Deputy Director of the New England Public Policy Center, a research group established by the Boston Federal Reserve Bank, this report's "most important contribution is its exposure and discussion of the common misconceptions regarding school funding and property taxes. Public policies are too often developed based on incomplete analysis and unchallenged assertions. There is a real need for objective research like Dr. Kenyon's that can shine a brighter light on assumptions and support the development of sound policies."