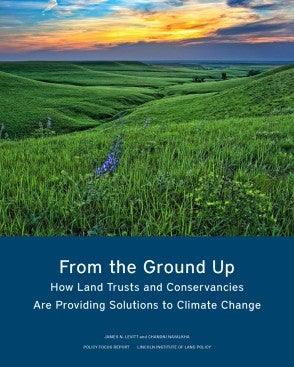 How Land Trusts and Conservancies Are Providing Solutions to Climate Change
James N. Levitt and Chandni Navalkha
As communities worldwide make protecting the climate a priority, land trusts and conservancies of all sizes and capac­ities are seeking greater clarity in how to address climate change through land conservation and stewardship. Policy makers and decision makers are considering how to address climate-related impacts in communities, states, and regions. Funders and donors are seeking to invest in projects and initiatives which offer durable, lasting solutions for reducing carbon emissions and improving climate resilience.
This report—written by James Levitt, a global expert and educator in land conservation, and Chandni Navalkha, an international leader in sustainable management of land and water resources—offers numerous case examples of successful initiatives along with the following guidance for stakeholders in the private and public sectors looking to boost the potential of civic organizations to implement natural climate solutions:
Empower civic-sector initiatives that are creative and ambitious in scope and scale.
Invest in initiatives with clear strategies and measurable impact.
Aim for broad collaborations.
Share advanced science, technologies, and financial engineering techniques.
Support initiatives that are built to last, able to adapt, and ready to replicate.
About the Authors
James N. Levitt is the Director of the International Land Conservation Network and leads the Sustainably Managed Land and Water Resources goal area's Cambridge-based team at the Lincoln Institute of Land Policy in Cambridge, Massachusetts. He is also a Fellow at the Harvard Forest, Harvard University, in Petersham, Massachusetts. In addition, he holds an ongoing Fellowship at Highstead, a non-profit organization advancing land conservation in New England. Levitt focuses on landmark innovations in the field of land and biodiversity conservation, both present-day and historic, that are characterized by five traits: novelty and creativity in conception; strategic significance; measurable effectiveness; international transferability; and the ability to endure. He has written and edited dozens of articles and four books on land and biodiversity conservation. He has also lectured widely on the topic in venues ranging from Santiago, Chile to Stockholm, Sweden. Among his current efforts, Levitt plays an instrumental role in the effort to advance the mission of the International Land Conservation Network (ILCN), which is to connect organizations around the world that are accelerating voluntary private and civic sector action to protect and steward land and water resources. Levitt is a graduate of Yale College and the Yale School of Management (Yale SOM). He was named a Donaldson Fellow by Yale SOM for career achievements that "exemplify the mission of the School."
Chandni Navalkha is the Program Manager for Land Conservation Programs within the Department of Planning and Urban Form, where she works on projects to advance and accelerate the enduring protection of land and water resources worldwide. Prior to joining the Lincoln Institute, Chandni was a fellow with the Sri Lanka Program for Forest Conservation, conducting research on the impacts of conservation on local livelihoods near the Sinharaja World Heritage Site. Chandni has worked for organizations in North America, Latin America, and South Asia supporting urban, peri-urban, and rural communities involved in voluntary land and resource conservation, and earlier in her career worked in change management for private and public sector organizations as a consultant with Accenture.