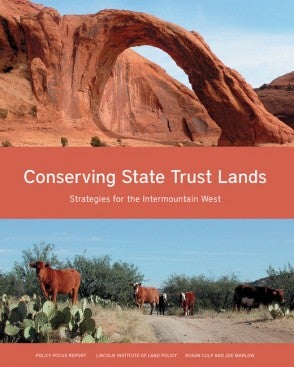 Conserving State Trust Lands
Strategies for the Intermountain West
This report presents and critiques tools and strategies for conserving western state trust lands with ecological and environmental value. A valuable resource for state trust managers and policy makers, it offers information on how to better monetize conservation acitivty and satisfy trust goals.
About the Authors
Susan Culp was the project manager for Western Lands and Communities, a joint program of the Lincoln Institute of Land Policy and the Sonoran Institute. The partnership integrated conservation with development and promoted sustainability in the Intermountain West. Susan oversaw the program's research and policy analysis projects to promote regional planning; improve management of state and federal public lands; and integrate energy, transportation, water, and conservation infrastructure at a regional level.
Joe Marlow is the Sonoran Institute's senior economist and has been working there since 2007. He conducts research on resource conservation, land use, and development economics in the West. He is currently leading the scenario planning efforts to develop a set of key change drivers in the Intermountain West, conduct a workshop on organizational strategic planning, and initiate a scenario planning component of a comprehensive land use planning process.