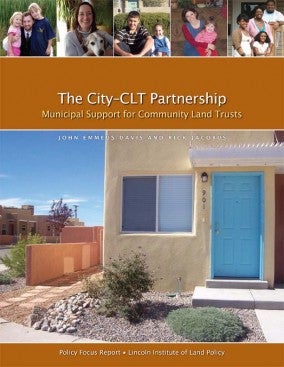 Municipal Support for Community Land Trusts
John Emmeus Davis and Rick Jacobus
The community land trust (CLT) movement is young but expanding rapidly. Nearly 20 community land trusts are started every year as either new nonprofits or as programs or subsidiaries of existing organizations. Fueling this proliferation is a dramatic increase in local government investment and involvement. Over the past decade, a growing number of cities and counties have chosen not only to support existing CLTs, but also to start new ones, actively guiding urban development and sponsoring affordable housing initiatives.
Two key policy needs are driving increased city and county interest in CLTs, particularly in jurisdictions that put a social priority on promoting homeownership for lower-income families and a fiscal priority on protecting the public's investment in affordable housing.
Long-term preservation of housing subsidies. With local governments now assuming greater responsibility for creating affordable housing, policy makers must find ways to ensure that their investments have a sustained impact. CLT ownership of the land, along with durable affordability controls over the resale of any housing built on that land, ensures that municipally subsidized homes remain available for lower-income homebuyers for generations to come.
Long-term stewardship of housing. Preserving housing affordability requires long-term monitoring and enforcement, an administrative burden that local governments are neither equipped for nor generally interested in taking on. CLTs are well positioned to play this stewardship role by administering the municipality's eligibility, affordability, and occupancy controls, while also "backstopping" lower-income owners to protect subsidized homes against loss through deferred maintenance or mortgage foreclosure.
Municipal support comes in a variety of forms, depending on how well established the CLT is. For example, local governments may offer administrative or financial support during the planning and startup phase, followed by donations of city-owned land and grants or low-interest loans for developing and financing projects. They may help a CLT acquire and preserve housing provided by private developers to comply with inclusionary zoning, density bonuses, and other mandates or concessions. As the CLT builds its portfolio, municipalities may provide capacity grants to help support its operations. Finally, local jurisdictions may assist CLTs by revising their tax assessment practices to ensure fair treatment of resale-restricted homes built on their lands.
As welcome as their support has been, local governments may inadvertently structure CLT funding and oversight in ways that undermine the effectiveness of the very model they are attempting to support. The challenge lies in finding the most constructive ways of putting municipal resources to work in pursuit of common objectives.
Based on a review of three dozen municipal programs and in-depth interviews with local officials and CLT practitioners, this report describes the mechanisms and methods that cities across the country are using to structure their investment in CLT startups, projects, and operations. In addition to describing the full range of options for providing municipal support, the report highlights specific model practices for rendering that assistance. These practices have the most potential to balance the interests of all parties by:
protecting the public's investment in affordable housing;
expanding and preserving access to homeownership for households excluded from the market;
stabilizing neighborhoods buffeted by cycles of disinvestment or reinvestment; and
ensuring accountability to funders, taxpayers, and the communities served by the CLT.
The city–CLT relationship continues to evolve. This report ends with a discussion of three emerging trends: shifts in the city's role from supporter to instigator, and from participant to governor; and a deepening of the CLT's primary role as a steward of affordable housing created with municipal assistance. While posing new challenges, these changes also present new opportunities for tomorrow's city–CLT partnerships.
About the Authors
John Emmeus Davis is a partner and cofounder of Burlington Associates in Community Development in 1993. He previously served as the housing director and enterprise community coordinator for the City of Burlington, Vermont. He is a visiting fellow at the Lincoln Institute of Land Policy.
Rick Jacobus has 15 years of experience in housing and community development. He joined Burlington Associates in Community Development as a partner in 2004, assisting in the development of community land trusts and inclusionary housing programs on the West Coast. He is also a visiting fellow of the Lincoln Institute.
Tags:
Common Property
,
Community Development
,
Community Land Trusts
,
Conservation
,
Economics
,
Environmental Planning
,
Growth Controls
,
Housing
,
Land Law
,
Land Market Regulation
,
Land Monitoring
,
Land Use
,
Land Use Planning
,
Land Value
,
Local Government
,
Public Policy
,
Regulatory Regimes
,
Smart Growth
,
Suburban
,
Urban Design
,
Urban Development
,
Urban Sprawl
,
Zoning