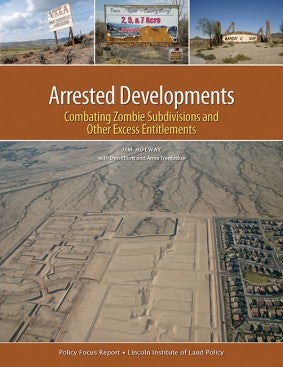 Combating Zombie Subdivisions and Other Excess Entitlements
Drawing on case studies, survey results, and data analyses of abandoned residential development projects in the U.S. Intermountain West, this report shows local leaders how to identify and overcome problems cause by the real estate boom and bust of the 2000s. It recommends measures to treat and prevent excess development entitlements, including a model process to help communities address issues in their own jurisdictions.
About the Authors
Jim Holway, Ph.D., FAICP, was the project manager for this effort and the primary report author. Jim Holway directed Western Lands and Communities, the Lincoln Institute's former joint venture with the Sonoran Institute, based in Phoenix, Arizona. He was previously assistant director of the Arizona Department of Water Resources and a professor of practice at Arizona State University. He is now the director of the Babbitt Center for Land and Water Policy at the Lincoln Institute of Land Policy.
Don Elliott, FAICP, contributed throughout this project, including authoring the initial working paper for the first experts convening. Don also contributed significantly to the conceptual framework for the challenges and best practices. He is a director in Clarion Associates' Denver office. He is a land use lawyer and city planner with 21 years of related experience. Don has drafted award-winning land use regulations for Denver and Aurora, Colorado, and has spoken and written extensively on a wide variety of land use and legal topics.
Anna Trentadue e contributed throughout this project. She authored two working papers that provided much of the content for Chapter 2 as well as some of the introductory language. Anna is the staff attorney and program director for Valley Advocates for Responsible Development (VARD) in Teton County, Idaho.