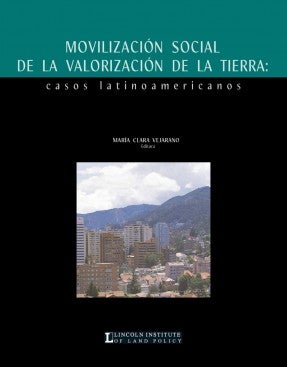 Movilización social de la valorización de la tierra
Edited by María Clara Vejarano
Lincoln Institute of Land Policy
Movilización social de la valorización de la tierra: Casos latinoamericanos (Social Mobilization of Land Value Increments: Case Studies from Latin America) includes thirteen case studies from six Latin American countries on the topic of mobilization of land value increments. The case studies present real projects that have already been implemented and have relevant results. The compilation's objective is to foster improved comprehension of this topic by decision-makers and the adoption of adequate policies for a more equitable distribution of land value increments.
Table of contents
Introducción
María Clara Vejarano
Argentina
Consorcio Parque Náutico San Fernando: Concesión de tierras municipales y recuperación de plusvalías
Ramón Alberto Esteban
Ordenanza municipal en la ciudad de Rosario (Provincia de Santa Fe, Rep. Argentina) tendiente a utilizar algunos de los mecanismos de recuperación de plusvalías
Ángel Enrique Ganem
Brasil
Contribución de mejoras: Un caso real en Brasil
Luiz Fernando Chulipa Möller
Otorgamiento oneroso del derecho de construir: La experiencia del suelo creado en Porto Alegre, Brasil
Claudia M. De Cesare y Claudia P. Damasio
Uso de la transferencia del potencial constructivo para la adquisición de inmuebles: La experiencia de Porto Alegre
Néia Uzón
Relación entre políticas territoriales y reestructuración económica: La operación urbana del eje Tamanduatehy, Santo André, São Paulo
Paula Santoro
Recuperación de plusvalías urbanas a través de operaciones interligadas y del cobro de suelo creado: La experiencia de la ciudad de Niteroi, Rj, Brasil
Luis Fernando Valverde Salandía
Colombia
La contribución de valorización—desarrollo urbano en todas las escalas: La experiencia de Bogotá (Colombia) en el período 1987–2004 y prospectiva
Jorge Hernández
Bogotá, D.C. primera experiencia de recuperación de la plusvalía urbana para la colectividad en el marco de la Ley de Desarrollo Territorial
Sandra Viviana Salgado Naranjo, Alexander Sierra Leguizamón, Magda Cristina Montaña y María Clara Vejarano
Chile
Recuperación de plusvalías... una intención pendiente: Evaluación de la propuesta de desarrollo para la Avenida Santa Isabel, área centro-sur de la Comuna de Santiago en la ciudad de Santiago, Región Metropolitana (1995)
Miguel Saavedra Sáenz, Claudio Contreras Carvajal
Uruguay
Régimen específico en El Plan de Ordenamiento Territorial Plan Montevideo
Cristina Pastro
El precio compensatorio por mayor aprovechamiento como instrumento de recuperación de plusvalías: Un caso en la ciudad de Montevideo, Uruguay
Eloy E. Rodríguez
Venezuela
La contribución especial por plusvalía en materia de urbanismo: Caso de estudio—Municipio Baruta, Caracas-Venezuela
Ma. Patricia Vilaboy De R., Sandra Ornés V.
Colaboradores