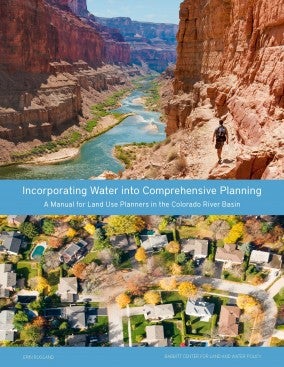 Incorporating Water into Comprehensive Planning
A Manual for Land Use Planners in the Colorado River Basin
Lincoln Institute of Land Policy
Land use planning and water management are siloed disciplines that often operate independently, despite the important overlaps between the two and the mutual benefits of working together. Integrating land use planning and water management can help communities grow more sustainably. By making smart decisions about water before development begins, municipalities and counties can better equip themselves to deal with water scarcity and other challenges, diminishing reliance on water conservation programs or incentives that reduce demand during drought.
An effective way to integrate water management into land use planning is to incorporate it into a comprehensive plan. Different land uses and building types have different impacts on water demand, and water supply can influence the cost and location of development. In order to make informed, sustainable decisions about land use, many communities will have to consider the impact of those decisions on water resources. The comprehensive plan lays out a community's vision for its future, and the policies and land uses that will help to realize that vision. This manual details how land use planners in the seven Colorado River Basin states (Arizona, California, Colorado, Nevada, New Mexico, Utah, and Wyoming) can create a comprehensive planning process that ensures enough water for all residents of the region in the years ahead.
About the Author
Erin Rugland, AICP is a program manager at the Babbitt Center for Land and Water Policy, a center of the Lincoln Institute of Land Policy.