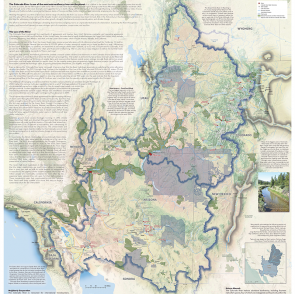 Map: Colorado River Basin
Text by Matt Jenkins and design by Jeff Allenby and Chaz Baculi
This lifeline in the desert has made human survival possible, fed much of the United States, and helped fuel a regional economy that would, by some accounts, be the fifth-largest in the world if the Colorado River Basin were a separate nation. Rising in the Rocky Mountains, the Colorado River traverses 1,450 miles of some of the most beautiful and inhospitable territory on earth, flowing through Wyoming, Colorado, New Mexico, Utah, Arizona, Nevada and California before entering the Mexican states of Sonora and Baja California and ultimately emptying into the Gulf of California.
The river forms a common thread through two countries and across a diverse range of cultures, and it is a source of both unity and controversy. It has served as an anvil on which debates over the value of free-flowing rivers and the broader modern environmental conscience have been formed. And in the 21st century, it has become ground zero for addressing challenges such as population growth, drought, food security, social justice, and climate change.
The effort to confront those challenges is breaking down many old barriers and has given rise to an unprecedented sense of collaboration. Yet, taking the river into the next century may demand an even stronger spirit of compromise and sacrifice.
One of the most significant changes reflected on the map—which the Babbitt Center for Land and Water Policy produced in partnership with the Center for Geospatial Solutions—is the inclusion of the river's entire 1,450-mile route, from its origins in the Rocky Mountains of Colorado to its terminus at the Sea of Cortez in Mexico. Most conventional maps align the Colorado River Basin's southern edge with the U.S.-Mexico border, a legacy of administrative and engineering decisions made by the U.S. government in the 20th century.
Read the June 2021 Land Lines article "A Cartographic Meditation: Mapping the Colorado River Basin in the 21st Century"
Tags:
Water