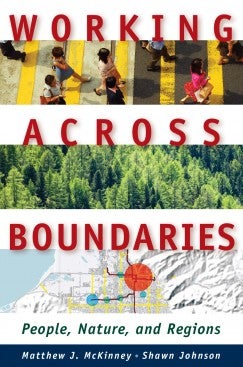 Working Across Boundaries
People, Nature, and Regions
Lincoln Institute of Land Policy
This work on regional collaboration grows out of what has itself become a long-standing collaboration between the Lincoln Institute of Land Policy and the University of Montana Public Policy Research Institute (now named the Center for Natural Resources and Environmental Policy). Regional planning at different scales, territorial spillovers, and multijurisdictional governance has long been part of the Department of Planning and Urban Form's research and training agenda. Through a joint venture partnership, we have been able to study and field test the ideas in this book over nearly a decade, primarily through training sessions and place-based clinics on regional efforts across North America.
Although it begins with a chapter that answers the question, "Why work across boundaries?", this book is really more about the "how" of regional collaboration than the "why." That is appropriate, as it is intended for citizens, practitioners, and policy makers already grappling with the challenges presented by transboundary issues who seek guidance on the process by which regional solutions can be identified and implemented.
The book presents an array of practical and tested strategies and techniques that can be employed across the broad range of land use, natural resource, and environmental issues at scales ranging from the metropolitan to the megaregional, including watersheds and ecosystems. Whether you are deeply engaged in a regional initiative, or just beginning to explore a regional strategy, this book provides a robust set of ten guiding principles, five key questions for regional governance, and seven habits of effective implementation that can be referred to before, during, and after undertaking regional collaboration.
Visit the companion website, Regional Collaboration.
Conservation
,
Development
,
Dispute Resolution
,
Environment
,
Growth Controls
,
Growth Management
,
Land Market Monitoring
,
Land Market Regulation
,
Land Monitoring
,
Land Use
,
Land Use Ethics
,
Land Use Planning
,
Mediation
,
Natural Resources
,
Planning
,
Public Policy
,
Regionalism
,
Regulatory Regimes
,
Smart Growth
,
Sustainable Development
,
Transportation
,
Urban
,
Urban Design
,
Urban Development
,
Urban Revitalization
,
Urban Sprawl
,
Urbanism
,
Water
,
Zoning