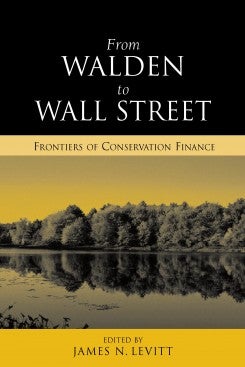 From Walden to Wall Street
Frontiers of Conservation Finance
Published by Island Press in cooperation with the Lincoln Institute of Land Policy
In the absence of innovation in the field of conservation finance, a daunting funding gap faces conservationists aiming to protect America's system of landscapes that provide sustainable resources, water, wildlife habitat, and recreational amenities. Experts estimate that the average annual funding gap could be between $1.9 billion and $7.7 billion over the coming 40 years. Can the conservation community come up with new methods for financing that will fill this gap, especially for high-priority land conservation needs?
From Walden to Wall Street brings together the experience of more than a dozen pioneering conservation finance practitioners to address that question, and the answer is quite possibly "yes," according to editor James N. Levitt. Some of the groundbreaking ideas discussed in this volume include mainstreaming environmental markets; proven methods that have caused a four-fold increase in local government ballot measures for land conservation; and the powerful potential of debt markets, convertible tax-exempt financing, emerging tax benefits, and private equity markets for conservation organizations with the institutional capacity to appropriately access them. The growth of interim financing mechanisms also can enable existing funding resources to be used with greater efficiency and effectiveness.
The creativity and insight of the contributors offer considerable hope that, even in this era of widespread financial constraints, the American conservation community's financial resources may grow dramatically in both quantity and quality in the decades to come. This book is an outgrowth of a series of symposia on conservation finance sponsored by the Lincoln Institute. It is designed for a broad range of readers, including board members, executives, field practitioners, and financial officers of conservation organizations; legal and finance professionals in corporate and nonprofit sectors; academic researchers; policy makers and their staffs; and interested members of the public who are considering how to invest in the future of essential natural systems.
About the Editor
James N. Levitt is the associate director of Land Conservation Programs at the Lincoln Institute of Land Policy and director of the program on conservation innovation at the Harvard Forest, Harvard University, in Petersham, Massachusetts.