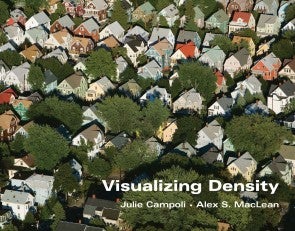 Lincoln Institute of Land Policy
The American Dream of a single-family home on its own expanse of yard still captures the imagination. But with 100 million more people expected in the United States by 2050, rising energy and transportation costs, disappearing farmland and open space, and the clear need for greater energy efficiency and reduced global warming emissions, the future built environment must include more density.
Consumer demand for more walkable, mixed-use, and concentrated neighborhoods is already on the rise among some demographic groups—the 70 million retiring baby boomers, for example, and young professionals seeking transit-oriented development for shorter commutes. But for others, density continues to have negative connotations. In many established urban neighborhoods, concerns about traffic congestion and parking, and strains on infrastructure, schools, and parks have led to resistance to more concentrated settlement patterns.
Into this context, landscape architect and land planner Julie Campoli and aerial photographer Alex S. MacLean have joined forces with the Lincoln Institute to create a full-color, richly illustrated book to help planners, designers, public officials, and citizens better understand, and better communicate to others, the concept of density as it applies to the residential environment.
Visualizing Density includes an essay on the density challenge facing the United States, an illustrated manual on planning and designing for "good" density, and a catalog of more than 250 diverse neighborhoods across the country, noting density in housing units per acre for each site. Four photographs of each location are included—close-up, context, neighborhood, and plan views—to provide an impartial and comparative view of the many ways to design neighborhoods.
For many Americans density is associated with ugliness, crowding, and congestion, even though it can be shown that, when properly planned and designed, higher density can save land, energy, and dollars. Moreover, many people have difficulty estimating density from visual cues or distinguishing quantitative (measured) and qualitative (perceived) density. We tend to overestimate the density of monotonous, amenity-poor developments and underestimate the density of well-designed, attractive projects, thereby reinforcing the negative stereotypes. A primary objective of this work is to correct these misperceptions. As Campoli has stated, "We don't have a density problem. We have a design problem."
Table of Contents
Foreword, Armando Carbonell
Growing Closer
The Count
The Coming Boom
Spreading Out or Growing In
Crosscurrents
The Benefits
Why We Hate Density
How We Can Love Density
Visualizing Density
Patterns of Density
Planning for Density
Designing for Density
The Density Catalog
Reviews
PLANetizen, an online journal and clearinghouse for information relevant for planning practitioners, named Visualizing Density one of its Top 10 Books for 2008.
"This vivid and visual book is one of the essential guides to understanding the concept of density. It provides aerial photos and street pattern maps for the entire range of housing density in America—from 0.2 units per acre in Beverly Hills to nearly 300 units per acre in New York City. . . . Campoli presents accurate descriptions of density and land use patterns in the United States, and offers the stepping stones to planning and designing for a society of greater density. MacLean's beautiful and varied aerial photography gives an impressive view of hundreds of parts of the country and, at the same time, a disturbing look at the wasteful development pattern that has persevered in the U.S. for decades."
—From the PLANetizen commentary
Visualizing Density was also named by Choice magazine as an Outstanding Academic Title of 2007. This prestigious designation includes 646 books and electronic resources chosen by the Choice editorial staff from among more than 7,000 titles reviewed that year by the magazine, the official publication of the Association of College and Research Libraries, a division of the American Library Association. In making the selection of titles, the magazine's editors consider overall excellence in presentation and scholarship, importance relative to other literature in the field, distinction as a first treatment of a subject, originality, and value to undergraduates and undergraduate library collections. The full list is available online at the American Library Association website. Choice Reviews Online tags all reviews that have been designated as Outstanding Academic Titles.
"[Visualizing Density] makes an abstract concept—density—completely real and easy to understand, to feel. Planning board members, town zoning officials, or anyone charged with figuring out the vexing future of our physical landscape will profit from reading it, and find pleasure, too."
—Bill McKibben, author of Deep Economy: The Wealth of Communities and the Durable Future (Times Books, 2007) and The End of Nature (Random House, 2006)