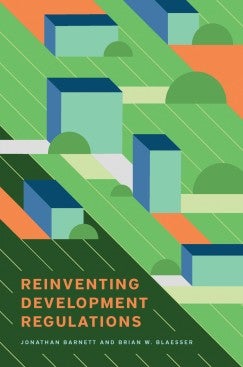 Reinventing Development Regulations
Jonathan Barnett and Brian W. Blaesser
Lincoln Institute of Land Policy
In this practical guide, two well-known experts argue that municipal leaders can dramatically improve the quality of life in their communities by adjusting local land use regulations. Development regulations determine the form of our cities, suburbs, and towns, but current regulations have structural deficiencies and biases that must be corrected for communities to meet 21st century land use challenges. Barnett, one of the pioneers of the modern practice of city design, and Blaesser, a land use and real estate lawyer, lay out strategies to preserve the natural environment, create desirable civic spaces, conserve historic buildings, reduce housing inequality, ease the pressures of urban sprawl, and deal with floods, erosion, and wildfire. The authors recommend improving six critical areas of zoning and subdivision regulations.
Relate development to the natural environment.
Manage climate change locally.
Encourage walking by mixing land uses and housing types.
Preserve historic landmarks and districts.
Create more affordable housing and promote environmental justice.
Establish design principles and standards for public spaces and buildings.
Implement regulations while safeguarding private property interests.
About the Authors
Jonathan Barnett served as director of the graduate urban design program at the University of Pennsylvania and at the City College of New York. He worked in the administration of New York City's Mayor John Lindsay and wrote Urban Design as Public Policy (McGraw-Hill), which helped establish urban design as a well-recognized profession. He also wrote City Design: Modernist, Traditional, Green, and Systems Perspectives (Routledge) and coauthored Ecodesign for Cities and Suburbs (Island Press), among other works. He has been design consultant to cities, communities, and suburbs in the United States, China, Cambodia, and Korea. He is a fellow of the American Institute of Architects and the American Institute of Certified Planners, and is a recipient of numerous awards for urban design education and practice.
Brian W. Blaesser is a partner in the law firm Robinson & Cole LLP, and heads the firm's Land Use and Real Estate Development Group. He served as special assistant attorney general for eminent domain actions in Illinois and has extensive experience in state and federal trial and appellate courts in real estate and land use litigation. Blaesser coauthored Federal Land Use Law & Litigation (Thomson-Reuters) and Discretionary Land Use Controls: Avoiding Invitations to Abuse of Discretion (Thomson-Reuters), and coedited Redevelopment: Planning, Law, and Project Implementation (ABA Publishing) and Land use and the Constitution: Principles for Planning Practice (Planners Press). He was a lecturer at the Harvard Graduate School of Design in planning and environmental law and public-private development, a legal consultant on development regulations across the country, and a Fulbright Scholar.