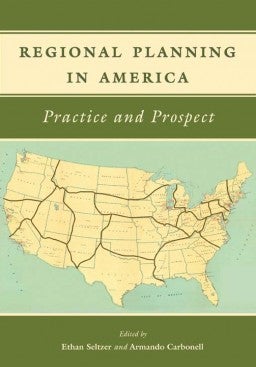 Regional Planning in America
Lincoln Institute of Land Policy
"Regional Planning in America is an extraordinary collection that presents a clear view of the field and highlights its many forms and applications for the twenty-first century. It is essential reading for all involved in charting the course of urban places, because regions are now the key building block in crafting communities of lasting value."
— Eugenie L. Birch, FAICP, Lawrence C. Nussdorf Professor of Urban Research and Education; Chair, Graduate Group in City and Regional Planning; Co-Director, Penn Institute for Urban Research, University of Pennsylvania
This best seller for regional planners introduces the foundations and applications of their practice in the United States. It offers guidance and inspiration to help professionals and students understand local issues in a regional and global context, define planning regions based on functional problems, and collaborate across regions as never before to advance sustinability and improve quality of life.
About the Editors
Ethan Seltzer is professor in the Toulan School of Urban Studies and Planning at the College of Urban and Public Affairs at Portland State University.
Armando Carbonell is vice president of programs at the Lincoln Institute of Land Policy.
Reviews
"Coherent regions are now, more than ever before, critical to the social, economical, and environmental health of our culture. And yet, we have little awareness and less governance at this scale. This book begins to lay the critical groundwork for a new profession and a new future—one in which regionalism becomes the foundation of a sustainable culture."
— Peter Calthrope, Principal, Calthorpe Associates
"Ethan Seltzer and Armando Carbonell have undertaken a demanding and critically important examination of the implementation and practice of regional planning. Building on the authors' extensive experience with regionalism, the book explores the historical evolution, the regulatory and political framework, and most significantly the practice of regional planning in the United States. Reflecting on practice and current successes, both national and international, they offer guidance for attaining sustainable regions capable of meeting the challenges and opportunities confronting us all."
— Catherine Ross, Henry West Professor; Director, Center for Quality Growth and Regional Development, School of City and Regional Planning, Georgia Institute of Technology
Community Development
,
Development
,
Ecology
,
Environment
,
Environmental Management
,
Environmental Planning
,
Growth Management
,
Land Market Monitoring
,
Land Use
,
Land Use Planning
,
Local Government
,
Planning
,
Regionalism
,
Smart Growth
,
Suburban
,
Sustainable Development
,
Urban
,
Urban Design
,
Urban Development
,
Urban Sprawl
,
Urban Upgrading and Regularization
,
Urbanism