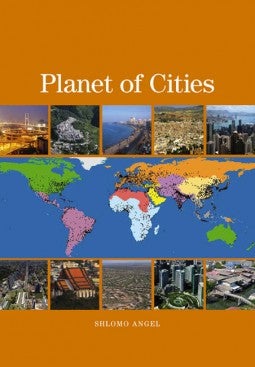 Lincoln Institute of Land Policy
Nearly 4,000 cities on our planet today have populations of 100,000 people or more. We know their names, locations, and approximate populations from maps and other data sources, but there is little comparable knowledge about all these cities, and none that can be described as rigorously scientific. Planet of Cities together with its companion volume, Atlas of Urban Expansion, contributes to developing a science of cities based on studying all these cities together—not in the abstract, but with a view to preparing them for their coming expansion.
The book puts into question the main tenets of the familiar Containment Paradigm, also known as smart growth, urban growth management, or compact city, that is designed to contain boundless urban expansion, typically decried as sprawl. It examines this paradigm in a broader global perspective and shows it to be deficient and practically useless in addressing the central questions now facing expanding cities outside the United States and Europe.
In its place Shlomo Angel proposes to revive an alternative Making Room Paradigm that seeks to come to terms with the expected expansion of cities, particularly in the rapidly urbanizing countries in Asia and Africa, and to make the minimally necessary preparations for such expansion instead of seeking to contain it. This paradigm is predicated on four propositions:
The expansion of cities that urban population growth entails cannot be contained. Instead we must make adequate room to accommodate it.
City densities must remain within a sustainable range. If density is too low, it must be allowed to increase, and if it is too high, it must be allowed to decline.
Strict containment of urban expansion destroys the homes of the poor and puts new housing out of reach for most people. Decent housing for all can be ensured only if urban land is in ample supply.
As cities expand, the necessary land for public streets, public infrastructure networks, and public open spaces must be secured in advance of development.
The first part of the book explores planetary urbanization in a historical and geographical perspective, to establish a global perspective for the study of cities. It confirms that we are in the midst of an urbanization project that started in earnest at the beginning of the nineteenth century, has now reached its peak with half the world population residing in urban areas, and will come to a close, possibly by the end of this century, when most people who want to live in cities will have moved there. This realization lends urgency to the call for preparing for urban expansion now, when the urbanization project is still in full swing, rather than later, when it would be too late to make a difference.
The second part of the book seeks to deepen our understanding and thus lessen our fear of urban expansion by providing detailed quantitative answers to seven sets of questions regarding the dimensions and attributes of urban expansion:
What are the extents of urban areas everywhere and how fast are they expanding over time?
How dense are urban areas and how are urban densities changing over time?
How centralized are the residences and workplaces in cities and do they tend to disperse to the periphery over time?
How fragmented are the built-up areas of cities and how are levels of fragmentation changing over time?
How compact are the shapes of urban footprints and how are their levels of compactness changing over time?
How much land would urban areas require in future decades?
How much cultivated land will be consumed by expanding urban areas?
By answering these questions and exploring their implications for action, this book provides the conceptual framework, basic empirical data, and practical agenda necessary for the minimal yet meaningful management of the urban expansion process.
Development
,
Globalization
,
Growth Controls
,
Growth Management
,
Housing
,
Infrastructure
,
Land Market Monitoring
,
Land Market Regulation
,
Land Use
,
Land Use Planning
,
Planning
,
Public Policy
,
Public Utilities
,
Reuse of Urban Land
,
Smart Growth
,
Sustainable Development
,
Transportation
,
Urban
,
Urban Design
,
Urban Development
,
Urban Sprawl
,
Urban Upgrading and Regularization
,
Urbanism