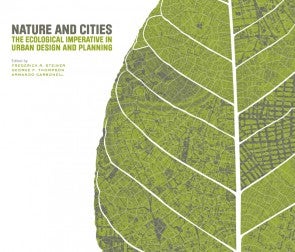 The Ecological Imperative in Urban Design and Planning
Lincoln Institute of Land Policy
Note: If you are ordering multiple copies of this book, please contact our warehouse by email at lincolnorders@pssc.com or by phone at 877-526-3257 for a shipping quote.
 
Named one of the American Society of Landscape Architects' Best Books of 2016, Nature and Cities asserts that ecologically based urban designs and plans are essential as the world urbanizes and the effects of climate change grow more severe. In this collection of essays, leading international landscape architects, architects, city planners, and urban designers explore the economic, environmental, and public health benefits of integrating nature more fully into cities and of linking ecological information to actions across many scales, communities, and regions. The book builds upon the premise of Ecological Design and Planning, also edited by George F. Thompson and Frederick R. Steiner (Wiley, 1997).
Read an excerpt from the book by the editors of Nature and Cities. 
Susannah Drake's chapter, WPA 2.0: Beauty, Economics, Politics, and the Creation of Twenty-First Century Public Infrastructure, is also available to read in its entirety. 
Table of Contents
George F. Thompson, Frederick R. Steiner, and Armando Carbonell
The Landscape Today and the Challenges Ahead
James Corner
The Ecological Imagination: Life in the City and the Public Realm
Richard Weller
The City Is Not an Egg: Western Urbanization in Relation to Changing Conceptions of Nature
Anne Whiston Spirn
The Granite Garden: Where Do We Stand Today?
Charles Waldheim
The Landscape Architect as Urbanist of Our Age
Kongjian Yu
Creating Deep Forms in Urban Nature: The Peasant's Approach to Urban Design
Elizabeth K. Meyer
Sustaining Beauty: The Performance of Appearance Design
Jose Alminaña and Carol Franklin
Creative Fitting: Toward Designing the City as Nature
Forster Ndubisi
Adaption and Regeneration: A Pathway to New Urban Places
Danilo Palazzo
The Role of Utopia in Ecological Planning and Design
Susannah Drake
WPA 2.0: Beauty, Economics, Politics, and the Creation of Twenty-First Century Public Infrastructure
Timothy Beatley
New Directions in Urban Nature: The Power and Promise of Biophilic Cities and Blue Urbanism
Kate Orff
Gardening the Bay: Participatory Frameworks for Ecological and Economic Change
Nina-Marie E. Lister
Resilience Beyond Rhetoric in Urban Design
Chris Reed
Projective Ecologies in Urban Design and Planning
Kristina Hill
Form Follows Flows: Systems, Design, and the Aesthetic Experience of Ecological Change
Laurie Olin
Water, Nature in Cities, and the Art of Landscape Design
Frederick R. Steiner, George F. Thompson, and Armando Carbonell
Afterword: Prospects for Urban Ecological Design and Planning
Reviews
"In their new book, editors Frederick Steiner, FASLA, George Thompson, and Armando Carbonell have made complex ideas about urban ecological design incredibly accessible. They make a convincing argument that 'ecological literacy' is an 'essential base' for anyone involved in urban planning and design today. There are 17 thought-provoking essays from leading landscape architects and planners from around the world."
—DIRT Best Books of 2016 (American Society of Landscape Architects)
"The beautiful photographs and lush design of Nature and Cities mask a radical and revolutionary set of ideas from some of the world's most insightful and intelligent landscape architects and urbanists. Brilliantly curated and edited, these essays offer fresh ideas about how to integrate our understanding of the human condition and the health, vitality, and sustainability of the planet."
—Darren Walker, Ford Foundation, President
"This important and beautiful book signals an exciting maturation of the linkage between ecological science and the theory and practice of urban design. The essayists, who represent both long-standing pioneers and new leaders in landscape architecture and planning, suture the urban and natural together, based on sound understanding of urban ecology. The integration is illustrated with innovative designs and plans that document the power and ethical need for the ecological turn in metropolitan design."
—Steward T. A. Pickett, Cary Institute of Ecosystem Studies, Distinguished Senior Scientist