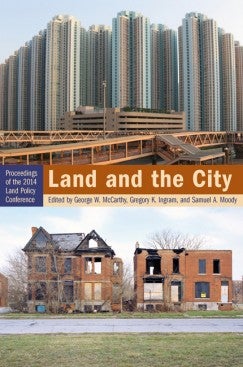 Lincoln Institute of Land Policy
This book from the Lincoln Institute's 2014 Land Policy Conference examines issues of land use policies and their impact on sustainable urbanization. By 1960, one-third of the world's population lived in urban areas, and in 2007 the world's urban population passed the halfway mark. All projected world population growth through 2050 will be urban, by which time two-thirds of the worlds people will depend on urban environments to meet their social, economic, and housing needs. The extent to which these needs will be met depends in many ways by the character of future urbanization defined in large part by land policies, ranging from planning for development or climate change, to the provision of affordable housing or other opportunities for the advancement of urban residents.
The land beneath our cities—and the policies that regulate it—shape the character of human settlements. This is critical awareness for a rapidly urbanizing planet. Above all, the editors of this volume hope that these studies will help policy makers and urban citizens alike recognize the profound ways in which land policies shape not only the cities we build but also the lives of those who reside in them.
Table of Contents
Preface
1. Introduction, George W. McCarthy and Samuel A. Moody
Urban Planning
2. Demographic Change and Future Urban Development, Dowell Myers and Hyojung Lee
Commentary: Ann Forsyth
3. Monitoring the Share of Land in Streets: Public Works and the Quality of Global Urban Expansion, Shlomo Angel
Commentary: Michael B. Teitz
4. Climate Change and U.S. Cities: Vulnerability, Impacts, and Adaptation, William Solecki
Commentary: Matthias Ruth
Taxation
5. The Past and Future of the Urban Property Tax, Grant Driessen and Steven M. Sheffrin
Commentary: John Yinger
6. Local Government Finances During and After the Great Recession, Adam H. Langley
Commentary: Michael A. Pagano
Housing Finance
7. Foreclosures and Neighborhoods: The Shape and Impacts of the U.S. Mortgage Crisis, Dan Immergluck
Commentary: James R. Follain
8. A Realistic Assessment of Housing Finance Reform, Laurie S. Goodman
Commentary: William Apgar
9. An Evaluation of China's Land Policy and Urban Housing Markets, Joyce Y. Man
Commentary: David Geltner and Xin Zhang
Housing Policy
10. Housing Policies and Urban Development: Lessons from the Latin American Experience, 1960–2010, Eduardo Rojas
Commentary: Stephen Malpezzi
11. The Relationship Between the Rise of Private Communities and Increasing Socioeconomic Stratification, Evan McKenzie
Commentary: Gerald Korngold
12. Socioeconomic Segregation Between Schools in the United States and Latin America, 1970–2012, Anna K. Chmielewski and Corey Savage
Commentary: Tara Watson
Assessment
,
Community Development
,
Development
,
Economic Development
,
Environmental Planning
,
Housing
,
Infrastructure
,
Land Use
,
Local Government
,
Municipal Fiscal Health
,
Planning
,
Property Taxation
,
Public Finance
,
Public Policy
,
Segregation
,
Taxation
,
Urban
,
Urban Development
,
Urban Upgrading and Regularization