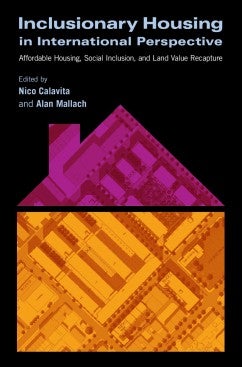 Inclusionary Housing in International Perspective
Affordable Housing, Social Inclusion, and Land Value Recapture
Edited by Nico Calavita and Alan Mallach
Lincoln Institute of Land Policy
"Countries around the world are looking for innovative ways to deal with growing problems of housing need and social exclusion. With its international perspective on inclusionary housing, this book is both timely and valuable. By simultaneously offering important theoretical insights along with a wealth of real-life policy examples, Calavita and Mallach have made a major contribution to the literature on planning and housing."
— Rachelle Alterman, Head, Center for Urban and Regional Studies, Technion–Israel Institute of Technology
This volume studies inclusionary housing programs in seven countries. It shows national policy makers and lawmakers exactly who benefits from inclusionary programs and examines the interplay between inclusionary housing and more traditional programs. Through a comparative methdology of theory and practice, it illustrates how to provide affordable housing and creat sustinable cities for everyone.
About the Editors
Nico Calavita is professor emeritus in the Graduate Program in City Planning at San Diego State University.
Alan Mallach is nonresident senior fellow at the Brookings Institution's Metropolitan Policy Program.
Reviews
"Callavita and Mallach have produced a comparative analysis of inclusionary housing in the United States, Canada, and several western European countries. They analyze national housing and land use planning policies, the roles of various actors in the housing system, and regional and local examples. This is the definitive book on this important policy innovation."
— Dennis Keating, Professor and Director, MUPDD Program, Department of Urban Studies, Levin College of Urban Affairs, Cleveland State University
"Comparative international research has become increasingly important in the housing field, where every country (and every city) tends to go it alone. This approach leads to inconsistent practices and frequently to poor outcomes. The thoughtful analysis and rich case studies presented by prominent scholars in this volume will be a valuable corrective to those tendencies, and should serve as a strong stimulus for adoption of more efficient and effective housing policies."
— Giorgio Piccinato, Professor Emeritus, Faculty of Architecture and Urban Studies, Università degli studi Roma Tre
"Callavita and Mallach have crafted an important addition to the literature on American and European planning and low-income housing policy. In this well-written, politically balanced volume, they tackle a number of sensitive, controversial issues such as the extent to which inclusionary housing promotes social integration and its effect as a housing production tool. While recognizing its shortcomings, they make a convincing case that inclusionary housing should be part of any responsible society's low-income housing strategy."
— David P. Varady, FAICP, Professor, School of Planning, University of Cincinnati