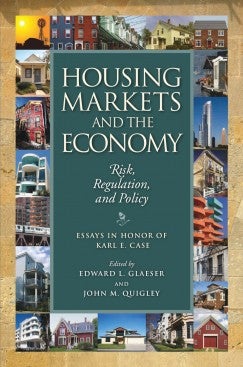 Housing Markets and the Economy
Risk, Regulation, and Policy
Edited by Edward L. Glaeser and John M. Quigley
Lincoln Institute of Land Policy
Based on a 2007 conference to honor the work of Karl "Chip" Case—an economist renowned for his scientific contributions to the economics of housing and public policy and co-creator of the Case-Shiller Index—this volume examines risk in the housing market, the regulation of housing markets by government, and other issues in U.S. housing policy. Chapters investigate derivative markets, the role that home equity insurance can play in reducing risk, the role that the regulation of government-sponsored enterprises has played in extending credit to home purchasers in low-income neighborhoods, and the growth in the market for subprime mortgages. The impact of local zoning regulations on housing prices and new construction is also considered.
About the Editors
Edward L. Glaeser is the Fred and Eleanor Glimp Professor of Economics at Harvard University and a research associate at the National Bureau of Economic Research in Cambridge, Massachusetts.
John M. Quigley is the I. Donald Terner Distinguished Professor at the University of California, Berkeley.
Reviews
"I found the book valuable even on topics I do not often think about, and I recommend it to urban and housing economists. Geographers and planning academics would profit from some essays. The topics vary greatly, and most are fairly specialized, but many different readers will find something of value. Teachers of graduate students and advanced undergraduates will find pieces to challenge students and stimulate discussion. The authors are to be commended for situating their research in context and for discussing prior research."
— Journal of Regional Science
"These ten excellent essays are a fitting tribute to the productive research career of Chip Case—wide ranging in coverage, careful in execution, and clearly relevant to today's pressing issues in national housing policy. Together they define the new frontier in housing policy research."
— Robert P. Inman, Richard K. Mellon Professor, Finance and Economics, Wharton School, University of Pennsylvania
"Ed Glaeser and John Quigley, two of the preeminent scholars of American housing markets have assembled a who's who of experts in this important book. The current financial crisis facing the United States finds its ground zero in housing. At no time in our history since the Great Depression has an understanding of the housing market been so critical. This book provides authoritative analyses of subjects ranging from the risk of housing price fluctuations to the crisis of subprime loans. These contributions will have a lasting impact on public policy and on housing scholarship for years to come. Housing Markets and the Economy will be must reading for academics and policy makers as we restructure our nation's system of housing finance."
— Michael H. Schill, Dean and Professor of Law, University of California, Los Angeles