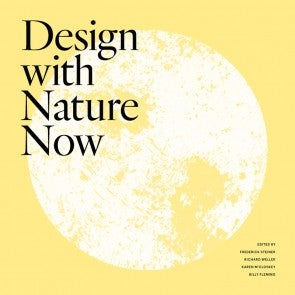 Edited by Frederick Steiner, Richard Weller, Karen M'Closkey, and Billy Fleming
Published by the Lincoln Institute of Land Policy in association with the University of Pennsylvania Stuart Weitzman School of Design and the McHarg Center
"I highly encourage students, faculty, and practitioners to read this book and distill for themselves the overarching lessons. Design With Nature Now is timely because it reintroduces us to an essential approach as we face another critical environmental and social justice inflection point."
— Larissa Larsen, Journal of the American Planning Association
In 1969, Ian McHarg's seminal book, Design with Nature, set forth a new vision for regional planning using natural systems. To celebrate its 50th anniversary, a team of landscape architects and planners from PennDesign have showcased some of the most advanced ecological design projects in the world today. Written in clear language and featuring vivid color images, Design with Nature Now demonstrates McHarg's enduring influence on contemporary practitioners as they contend with climate change and other 21st-century challenges. 
Reviews
One of the Best Books of 2019, "This collection of essays and projects should inspire any environmental policy maker, planner, or landscape architect to forge broader coalitions and act regionally and globally to save our fragile ecosystems and protect the future of humanity."
— American Society of Landscape Architects' The Dirt
"Like Ian McHarg's classic Design with Nature, this beautiful and fulsome reprise of his earlier work inspires us with its sheer virtuosity. Yes, it looks back at the pioneering work of McHarg but, much more, it elucidates contemporary challenges with boldness and precision. Human destruction and climate change are front and center, but so is dynamic planning and deep understanding of the places we inhabit and the ecological threats they face. A true manual for spaceship Earth!"
— Jerry Brown, Former four-term Governor, California
"This exceptional book presents the enduring wisdom of Ian McHarg to a new generation. His insights, freshly interpreted in the pages of landscape designs and drawings, give me hope for the future of our planet."
—Bruce Babbitt, Former U.S. Secretary of the Interior
"Ian McHarg would be heartened to see the range and quality of thinking he's inspired. Each of these essays will leave you with an enlarged sense of possibility, which is a great gift in a constrained world."
—Bill McKibben, Author, Falter: Has the Human Game Begun to Play Itself Out?
"[Design With Nature Now] is probably one of the most important volumes dedicated to design disciplines of the past century." (Translated from Italian) 
—Valerio Morabito, Topscape Magazine