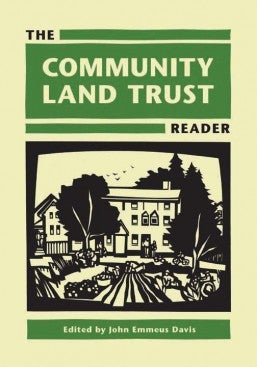 The Community Land Trust Reader
Edited by John Emmeus Davis
Lincoln Institute of Land Policy
"The immensely damaging U.S. housing bubble, which was built on speculation, burst suddenly, with disastrous results not just for our national economy, but for individual homeowners and renters. Homes that are needed by working families are too often priced beyond their reach—or pried from their grasp—by dramatic rises and falls in real estate prices. The Community Land Trust Reader show us there is a more equitable way of keeping land-based resources available, affordable, and secure for people who need them the most."
— Bernie Sanders, United States Senator
This compendium brings together seminal and historical texts that inspired and defined the community land trust (CLT). The collection also examines contemporary applications of the CLT to promote home ownership, spur community development, protect public investment, and capture land gains for the common good.
About the Editor
John Emmeus Davis is partner and co-founder of Burlington Associates in Community Development, a national consulting cooperative specializing in the development of policies and programs promoting permanently affordable, owner-occupied housing. He previously served as the housing director and enterprise community coordinator for the City of Burlington, Vermont and was a visiting fellow at the Lincoln Institute of Land Policy.
Reviews
"Forty years ago, the Civil Rights movement in the South gave birth to the community land trust (CLT). The nation's first CLT, New Communities Inc., was created to help African American farmers and their families gain economic independence in a turbulent time. CLTs of today are still engaged in making land available for rural homesteads, but many more CLTs are now working in cities and suburbs, serving families in need of affordable housing and neighborhoods in need of revitalization. Having been a part of New Communities at the beginning, I always hoped for the day when CLTs might be implemented nationally.  From what I see in The Community Land Trust Reader, it would seem that day has finally arrived." 
— Mtamanika Youngblood, President and CEO, Sustainable Neighborhood Development Strategies, Inc.
"The community land trust is a practical, innovative model for affordable housing and community engagement with a potential applicability, as this book suggests, that is worldwide. An exemplary CLT in the United States, the Champlain Housing Trust, was selected as a 2008 winner of the World Habitat Award, receiving the Award at the United Nations global celebration of World Habitat Day. Global interest in the model has begun to grow." 
— Diane Diacon, Former Director, Building and Social Housing Foundation
"Throughout the Reader, it is noteworthy how Davis has managed to achieve several goals at once. Most appealing to many will be the way he has represented people, providing just enough of their lives and struggles to give the book a level of humanity not usually found in books of this size. We also see in the Reader the values that made this set of legal devices and institutions something people would commit their lives to." 
— Pierce Clavel, Professor Emeritus, Cornell University College of Architecture, Art, and Planning, appeared in Progressive Planning, 2010
"Wide dissemination of The Community Land Trust Reader could help transform CLT's from an experiment to a real part of the America's low-income housing policy."
— David Varady, Professor of Planning, University of Cincinnati, appeared in Journal of the American Planning Association, May 3, 2012