Consortium for Scenario Planning Picks Up Steam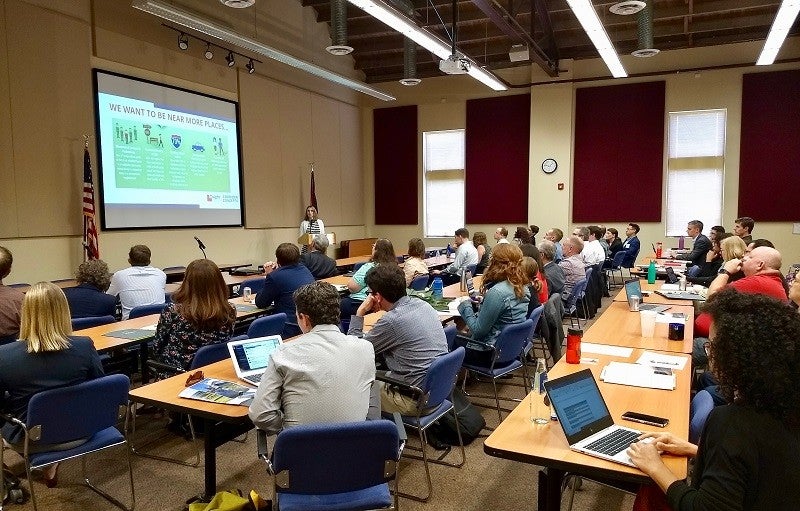 An emerging field, scenario planning engages diverse professionals, the public, and other stakeholders to identify, consider, and ultimately prepare for various "alternative futures" in ways that ensure not only comprehensive planning processes but also community buy-in, expert input, and practical outcomes. As professional planners and the communities they serve face new and different challenges, from climate change to persistent inequality, scenario planning allows a more diverse array of stakeholders to prepare more comprehensively for a shared, uncertain future.
The Consortium for Scenario Planning, an initiative of the Lincoln Institute, unites planning professionals, organizations, and other stakeholders to share educational resources and research, promote best practices, and improve the state of practice nationwide. After its first year of growth, the consortium hosted its second annual conference last month in Columbus, Ohio. Hosted by the Mid-Ohio Regional Planning Commission (MORPC), the conference gathered nearly 60 attendees from across the United States for three days of presentations, discussion panels, working groups, and—of course—planning.
Many participants had previously attended the consortium's kickoff event in 2017 and were excited to see how the group had grown in its first year. Since then, the consortium has taken fuller shape—with working groups, a 14-member board, and a website—and has expanded to offer educational material including a webinar series and online knowledge base.
For newcomers, the conference was a chance to learn more about scenario planning and the interests and expertise of its practitioners. The relatively small audience meant that participants could really engage with their peers, taking advantage of the niche community to gather lessons learned, best practices, and new ideas that they can bring back to their organizations.
Beyond the networking component, the conference offered an exciting series of organized sessions. Highlights included the tech-focused "Quantitative Approaches for Policy Development" panel and a talk on "Mixing and Matching Scenario Planning Types for Regional Needs," which emphasized that good scenario planning does not require significant financial, technical, or human resources. Organizers also offered a new "Scenario Planning Basics" track, which helped first-time attendees address specific challenges they may have encountered while establishing their own scenario planning processes.
Also new to the conference was a component meant to challenge a roomful of planning experts: the "unconference," an informal structure that allowed last-minute agenda additions and participant-driven topics to have their space. With discussions that included "how to visually demonstrate scenario tradeoffs" and "cool data viz apps and modeling tool demos," the unconference sessions were received well and struck a good balance between formal and informal.
On top of all that, the consortium announced its Request for Proposals for Impactful Projects, which seeks to improve the field of scenario planning in practical ways, and considered its next year of work—from integrating new members and voting on board seats to debating goals and strategies. Looking ahead, the whole group was excited to help more trained planning professionals learn to embrace and respond to uncertainty in an era when resilience and responsiveness is the name of the game. By the end of the event, attendees couldn't wait for next year's conference, tentatively scheduled for November 2019. In the meantime, visit the Consortium for Scenario Planning website for news and more information, including photo highlights from the conference and information on how to join the consortium as an official participant.
Photograph: Janae Futrell
Climate Mitigation
,
Planning
,
Scenario Planning