Land Matters Podcast: Orchestrating Impact: Retiring Scholars Reflect on the Lincoln Institute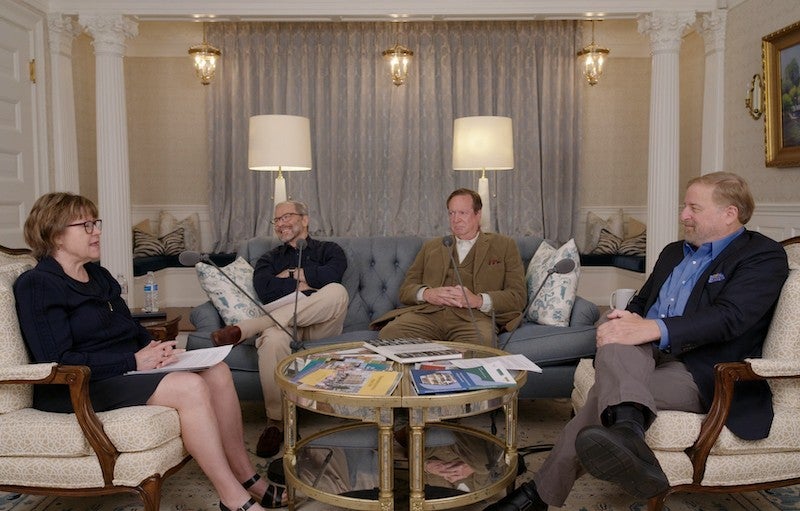 Having impact at a nonprofit research organization requires being both determined and nimble, according to three scholars who retired last year from the Lincoln Institute of Land Policy after decades of service.
The three scholars—geographer and urbanist Armando Carbonell, who led programs in urban planning and land conservation; Daphne Kenyon, an economist studying the property tax and municipal finance; and economist Martim Smolka, director of the organization's Latin America program—share reflections about their work and the Lincoln Institute in a special edition of the Land Matters podcast.
Though they pursued different areas of inquiry during their time at the organization, they found common themes, like the central task of assembling and convening a network of practitioners, and continually inviting feedback to keep up to date on the challenges and emerging issues in their fields.
One such network formed in the 1980s when Boston attorney Kingsbury Browne brought together a handful of people who were establishing conservation easements to safeguard ecosystems across the United States. The value of exchanging information about tax laws and land conservation was deemed to be so great, the group ended up forming the Land Trust Alliance, which now represents nearly 1,000 land trusts with some 60 million acres in conservation.
Another area of critical importance: communicating in plain terms and being attentive to different audiences, whether the topic is climate migration or informal settlements or the way the property tax pays for essential local services including schools. The interviewees cite Lincoln Institute projects like the State-by-State Property Tax At a Glance website, the Making Sense of Place film series, and a role-playing game that leads participants through the steps of functioning land markets as successful examples of this approach.
The three scholars (bios below) also recall how they first discovered and interacted with the Lincoln Institute—all of them starting more than 30 years ago—and share their experiences putting together extensive programming over that time. They also look ahead to the daunting challenges awaiting future generations working in the nonprofit realm.
Martim O. Smolka, former senior fellow and director of the Program on Latin America and the Caribbean, is an economist. His areas of expertise include land markets and land policy, access to land by the urban poor, the structuring of property markets in Latin America and property tax systems, including the use of land value increment charges to finance urban development and infrastructure. A graduate of the University of Pennsylvania (MA/PhD), he is co-founder and former president of the Brazilian National Association for Research and Graduate Studies on Urban and Regional Planning.
Daphne A. Kenyon, PhD, is a former resident fellow in tax policy at the Lincoln Institute of Land Policy. Her specialty is state and local public finance, with an emphasis on the property tax. She serves as the president of the National Tax Association. Kenyon's prior positions include principal of D.A. Kenyon & Associates, a public finance consulting firm; professor and chair of the economics department at Simmons College; senior economist with the U.S. Department of the Treasury and the Urban Institute; and assistant professor at Dartmouth College. Kenyon earned her BA in economics from Michigan State University and her MA and PhD in economics from the University of Michigan. She has published numerous reports, articles, and three books. Her research has been cited in The New York Times and The Economist, among other publications. Her latest work was writing a major revision of the 2007 report The Property Tax-School Funding Dilemma with co-authors Bethany Paquin and Andrew Reschovsky.
Armando Carbonell served as head of the Lincoln Institute's urban planning program. After attending Clark University and the Johns Hopkins University, Carbonell spent the early part of his career as an academic geographer. He went on to initiate a new planning system for Cape Cod, Massachusetts, as the founding Executive Director of the Cape Cod Commission. In 1992 he was awarded a Loeb Fellowship at the Graduate School of Design at Harvard University. Carbonell later taught urban planning at Harvard and the University of Pennsylvania and served as an editor of the British journal Town Planning Review. He has consulted on master plans in Houston, Texas, and Fujian Province, China, and is the author or editor of numerous works on city and regional planning and planning for climate change, including Nature and Cities: The Ecological Imperative in Urban Design and Planning. Carbonell is a Fellow of the American Institute of Certified Planners, Fellow of the Academy of Social Sciences (UK), and Lifetime Honorary Member of the Royal Town Planning Institute (UK).
You can listen to the show and subscribe to Land Matters on Apple Podcasts, Google Podcasts, Spotify, Stitcher, or wherever you listen to podcasts.
And for the first time, this episode of Land Matters can also be viewed as a video on YouTube.
---
Further Reading
Implementing Value Capture in Latin America
Seven Need-to-Know Trends for Planners in 2023
Rethinking the Property Tax-School Funding Dilemma
 
---
Anthony Flint is a senior fellow at the Lincoln Institute of Land Policy, host of the Land Matters podcast, and a contributing editor of Land Lines.
Image: (Left to Right): Daphne Kenyon, Martim Smolka, Armando Carbonell, and Anthony Flint.
Adaptation
,
Housing
,
Informal Land Markets
,
Planning
,
Property Taxation