Land Matters Podcast: Confronting Extreme Heat in Africa: A Conversation with the Mayor of Freetown, Sierra Leone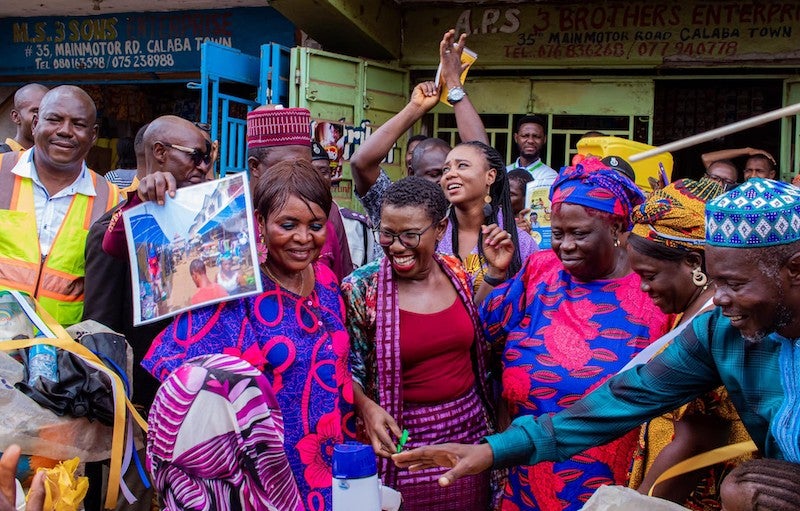 Assessing all the climate threats that rain down on West Africa, the mayor of Freetown, Sierra Leone, Yvonne Aki-Sawyerr, was convinced that extreme heat needed to be a top priority.
"There are more deaths from extreme heat than there are from the more visible and tangible disasters," she said on the latest episode of the Land Matters podcast. "In our case, the vulnerable are mainly those living in informal settlements. That's 35 percent of our city's population, and in those informal settlements, the housing structures are typically made from corrugated iron. With increased temperatures, you're effectively living in an oven."
The concern led Aki-Sawyerr to appoint Africa's first chief heat officer, with the support of the Arsht-Rockefeller Foundation Resilience Center. One of the first practical interventions was to provide shade covers at the city's open-air markets, where primarily women sit in the sun for long hours.
In a wide-ranging interview, also available at Land Lines magazine as the latest installment of the Mayor's Desk feature, Aki-Sawyerr said the aim is to build resilience for impacts being felt now, but also plan for long-range sustainability. She detailed the promise to plant a million trees and the planning initiative she launched after being elected in 2018, Transform Freetown.
Aki-Sawyerr, who previously served as head of the Freetown City Council, built her career as a finance professional. She was part of the campaign against blood diamonds and was instrumental in the response to the Ebola crisis in 2014. She has delivered two TED talks, including one about turning dissatisfaction into action. Named to the Time100 Next list of emerging leaders, she has been active in the C40 Cities global network.
As part of an effort to maintain not only environmental but fiscal sustainability, she also explained how the city overhauled its property tax assessment and collection practices.
The Lincoln Institute has been active in Africa, working with governments, scholars, and practitioners on issues like climate change, the property tax, and the fiscal health of local governments, and on using value capture to fund affordable housing and many other priorities.
You can listen to the show and subscribe to Land Matters on Apple Podcasts, Google Podcasts, Spotify, Stitcher, or wherever you listen to podcasts.
---
Further Reading
Africa's first "chief heat officer" says Freetown could be a data-driven climate model (Quartz)
Meet the 7 chief heat officers who are making their cities more resilient (Fast Company)
Collaborating to reform Freetown's property tax system (Institute of Development Studies)
---
Anthony Flint is a senior fellow at the Lincoln Institute of Land Policy, host of the Land Matters podcast, and a contributing editor of Land Lines.
Image: Mayor Yvonne Aki-Sawyerr, center, celebrates the installation of marketplace shades designed to combat extreme heat. Credit: City of Freetown.
Adaptation
,
Climate Mitigation
,
Municipal Fiscal Health
,
Resilience