Episode 6: The (Late) Great Climate Change Mobilization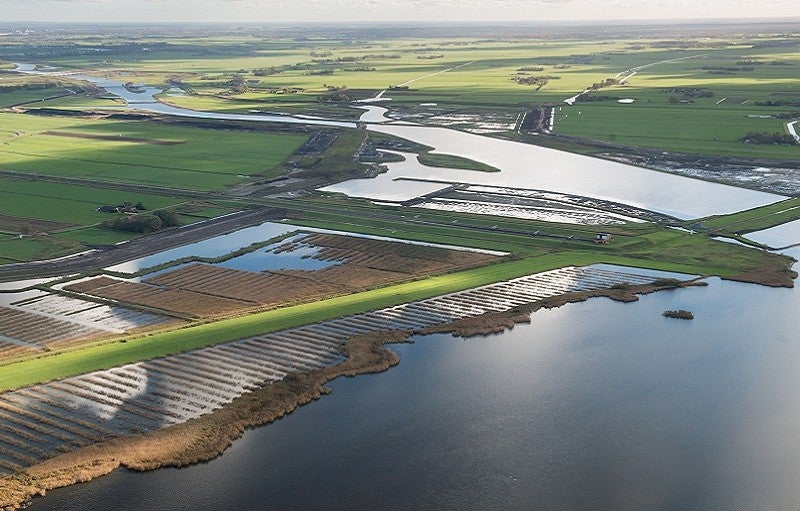 In the past century, the United States has mobilized for war, engineered the recovery from the Great Depression and the Great Recession, and sent a man to the moon. Tackling climate change should be no different, says Billy Fleming, director of The McHarg Center at the University of Pennsylvania Stuart Weitzman School of Design, and one of the editors of the new Lincoln Institute book Design with Nature Now.
"We can figure out how to do this," Fleming declares in the latest Episode of Land Matters, the podcast of the Lincoln Institute of Land Policy. "We've done it before."
New technological solutions may pop up in the future to make the job easier, but, on the mitigation side, several basic tasks are plainly evident: decarbonize the power grid, decarbonize transportation, and stop cutting down trees that suck up carbon and store it away. Similarly, on the adaptation side, green and blue infrastructure systems are proven solutions that need only be implemented on a larger scale, Fleming says.
He's in a good position to know. Together with UPenn colleagues Fritz Steiner, Richard Weller, and Karen M'Closkey, Fleming helped identify the 25 cutting-edge ecological design projects from around the world that are showcased in Design with Nature Now. From a transformed landfill in New York City to a re-engineering of natural systems to absorb rising seas on the coast of Virginia, these interventions promote sustainability and build resilience for a broad range of both urban and rural locations.
What's needed now is a high-level framework to organize these approaches and establish ways to pay for them, Fleming says. "The cost of doing something is far, far less than the cost of doing nothing," he says.
You can listen to the interview and subscribe to Land Matters on Apple Podcasts, Google Play, Spotify, Stitcher, or wherever you listen to podcasts.
 
Learn More
Design with Nature Now Amplifies Ian McHarg's Manifesto on Ecological Planning and Land Use (Land Lines)
Tired of waiting for national push, a buzzing hive of climate resilience innovators is at work in Boston (The Boston Globe)
Letting a thousand flowers bloom: innovations in building climate resilience (The Boston Globe)
---
Photograph: Following a 1953 coastal flood in which 1,800 people died, the Netherlands adopted a successful water management strategy that gives its major rivers room to flood safely. Made up of 34 projects, Room for the River excavated floodplains, relocated dikes, and created flood channels to build resilience against more frequent and extreme weather events in the future. Room for the River is one of 25 projects featured in Design with Nature Now. Credit: IJsseldelta. With permission, Province of Overijssel/Rijkswaterstaat. Project Credit: Room for the River is a cooperative effort of nineteen different entities overseen by the Province of Overijssel Ministry of Infrastructure and Water Management/Rijkswaterstatt. See www .roomfortheriver.com/.
Adaptation
,
Climate Mitigation
,
Resilience
,
Sustainable Development