How Small and Midsize Legacy Cities Can Pursue Equitable, Comprehensive "Greening"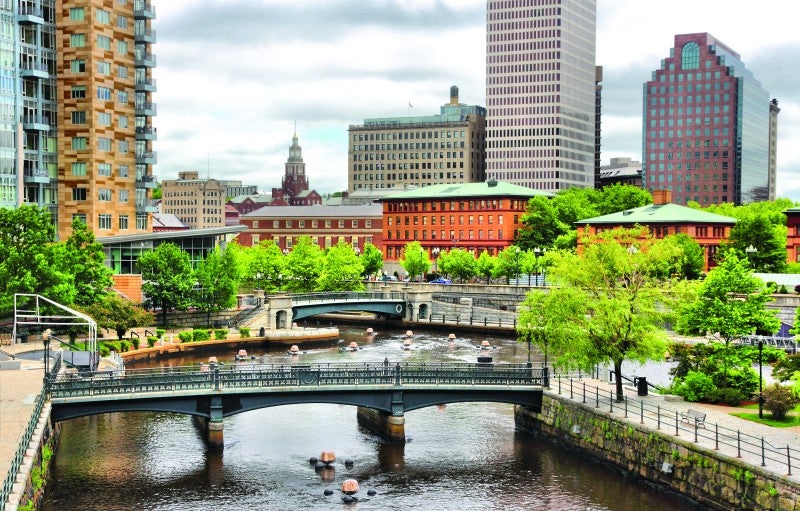 Realizing a low-carbon future that is economically and racially just is an enormous undertaking at any level, but especially for small and midsize older industrial cities. Following their rapid expansion in the early twentieth century, smaller "legacy cities" tend to have established built environments, access to natural resources, and substantial brownfields that make them ripe for sustainable redevelopment. Yet these places often lack the investment and capacity to create and implement comprehensive sustainability initiatives that contribute to a greener local future.
To advance "green" policymaking and implementation, local governments must build the capacity to integrate three concurrent policy areas: climate resilience, environmental justice, and green economic development. By building this strong policy foundation and leveraging newly available funding streams, these cities can chart bold paths toward green regeneration, according to Greening America's Smaller Legacy Cities, a new Policy Focus Report written by Joseph Schilling, Catherine Tumber, and Gabi Velasco and published by the Lincoln Institute of Land Policy.
Even with limited resources and budgets, these cities can pursue accessible, meaningful strategies to facilitate equitable community engagement, coordinate sustainability initiatives, and cultivate cross-sector partnerships. Indeed, the authors write, "'greening' cities is essential, despite these hurdles . . . [in part because] these practices offer a promising place-based pathway for equitable economic and environmental rebirth, or 'green regeneration.'"
For local officials and their partners across the public, private, nonprofit, and philanthropic sectors, this report offers strategic policy guidance for achieving meaningful climate resilience and climate justice, and for scaling early efforts effectively. It explores the fast-changing world of local-level climate policy and planning, as well as the existing policy levers municipalities can use to reform land use practices, plan for blue-green infrastructure, redevelop brownfields, construct green buildings, and prepare for low-carbon energy build-out.
To help readers take action, the report breaks down the practical strategies, specific steps, and key resources that smaller legacy cities need to link their sustainability efforts to broader partnerships and networks and to secure transformative investments. The authors recommend investing in green intermediaries that can strengthen regional networks, which can help smaller jurisdictions center climate resilience, racial equity, and green economic development. They also recommend integrating climate considerations into existing plans and policies, such as land use plans and codes, electric grid upgrades, and other specific interventions.
"Communities have an unprecedented opportunity to tackle the climate crisis with new federal funding," said Lisa Wong, the former mayor of Fitchburg, Massachusetts. "This report offers practical steps to implement equitable solutions by creating a road map to increase capacity and integrate policies. With the stakes so high for ourselves and generations to come, this important resource will help local leaders and activists build a better future for legacy cities."
"Smaller legacy cities bring abundant assets and incredible history to the table when it comes to economic development, but the specific challenges these cities face need tailored solutions, especially when the work is as critical and resource-heavy as green regeneration," said Jessie Grogan, associate director of reduced poverty and spatial inequality at the Lincoln Institute. "With this report, smaller legacy cities now have their own array of greening tools for leveraging their unique circumstances—tools committed to equity and justice as essential to enduring regeneration."
Greening America's Smaller Legacy Cities offers a novel framework for smaller legacy cities' leaders and for regional, state, and federal allies and partners to create near- and long-term sustainability programming at every level. With consistent awareness of the budget pressures and myriad other constraints these cities face, the authors explore newer funding and capacity-building opportunities, and they offer an insightful guide to the regional intergovernmental policy ecosystems and players that can help or hinder growth.
"This is crucial work," said Bill McKibben, activist and author of The End of Nature. "These small cities are often the hubs of large regions, and they can't be allowed to just molder away. Instead, they have a bright—and bright green—future, if we can come together to help them make the transition!"
Today, smaller legacy cities are regional economic centers and county seats, with a modest sense of scale, history of productive know-how, and access to farmland, forests, and water assets. They are crucial to constructing a more sustainable, equitable low-carbon world. While individual places have different histories, demographics, and spatial challenges to consider, the report ultimately details how, through integrating climate resilience, environmental justice, and green economic development initiatives, each smaller legacy city can forge its own path toward equitable green regeneration.
---
Allison Ehrich Bernstein is principal at Allative Communications.
Lead image: Providence, Rhode Island. Credit: tupungato via iStock/Getty Images Plus.
Climate Mitigation
,
Economic Development
,
Local Government
,
Poverty
,
Sustainable Development
,
Urban Development